Russia Today anchor resigns on air over Ukraine
Comments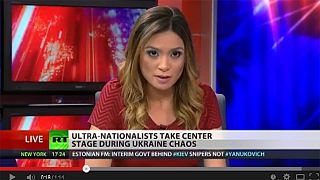 A Washington-based news anchor for Russia Today, Liz Wahl, quit her post during a live broadcast on Wednesday in protest at the TV network's coverage of ongoing events in Ukraine.
"As a reporter in this network, I face many ethical and moral challenges," said Wahl on air. "I cannot be a part of a network funded by the Russian government that whitewashes the actions of Putin."
"I'm proud to be an American and believe in disseminating the truth, and that is why after this newscast I am resigning," she added.
Wahl is the second RT anchor to speak out on the issue in a dramatic way this week. American RT anchor, Abby Martin, similarly went off-script earlier on Monday to announce her condemnation of the Kremlin's military intervention.
"Just because I work here, for RT, doesn't mean I don't have editorial independence and I can't stress enough how strongly I am against any military intervention in sovereign nations' affairs," said Martin. "What Russia did is wrong."
"Furthermore, the coverage I have seen of Ukraine has been truly disappointing from all sides of the media spectrum and rife with disinformation," Martin said before closing her famous show Breaking Set.
RT describes Martin's show as one that "cuts through the pre-written narrative that tries to tell you what to think, and what to care about."
RT reacted to the anchor's resignation in a statement in which it described their monologues as "nothing more than a self-promotional stunt."
"When a journalist disagrees with the editorial position of his or her organisation, the usual course of action is to address those grievances with the editor, and, if they cannot be resolved, to quit like a professional," stated RT on its website.
Russia's stance on the Ukraine crisis and its military intervention in Crimea has stirred a heated debate in the international press.