European parliament debates "problem" of Russian propaganda
Comments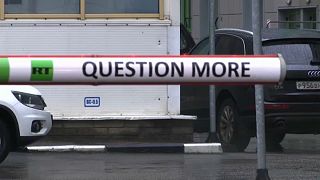 State-run Russian media has been expanding its footprint for years and it's increasingly focused on Western audiences.
From Moscow's perspective, media companies like RT and Sputnik are no different than Voice of America or Radio Free Europe:  they are there to win hearts and minds, one article at a time.
But some European politicians are alarmed.
"If you want our societies to be able to stand against these bloody propaganda campaigns," German MEP Rebecca Harms of the Group of the Greens told euronews, "then you have to empower the citizens in our society. We have to do more to have also stable situation in our media sectors that our journalists can work independently".
At a European Parliament debate on Wednesday, not everyone agreed there's a problem. Populist parties say Russian media outlets helped expand the political mconversation.
"I am more concerned with the EU propaganda than the clunky russian version," David Coburn, a British MEP with the UK Indendence Party (UKIP) told the assembly. "Russia Today gave UKIP a voice in the days when we couldn't get it from the BBC. So, perhaps they are defending freedom and a freedom that you lot want to close down. So, thank god for them."
Earlier this month, the European Commission convened a High Level Expert Group to tackle fake news. The panel is made up of representatives from social media companies, journalists, academics and members of civil society. Its challenge will be how to stem the flow of disinformation without undermining free speech.