Justin Bieber deportation petition passes threshold for White House response
Comments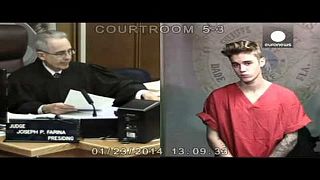 A petition calling for pop star Justin Bieber to be deported back to Canada has collected more than 100,000 signatures – triggering a political hot potato for Barack Obama.
Its passing of the 100,000 threshold means the White House must now respond.
The petition was launched after Canada-born Bieber, 19, was arrested in Miami after he was spotted drag racing. He was detained for drunk driving, resisting arrest and driving without a valid licence.
The petition reads: "We the people of the United States feel that we are being wrongly represented in the world of pop culture. We would like to see the dangerous, reckless, destructive, and drug-abusing, Justin Bieber deported and his green card revoked.
"He is not only threatening the safety of our people but he is also a terrible influence on our nations youth [sic]. We the people would like to remove Justin Bieber from our society."
Bieber and his management have so far declined to comment on the matter.
Video: Justin Bieber goofing around on quad bike in Panama a few days after being arrested