Artists wrap Paris Metro train in Christmas paper for festive stunt
Comments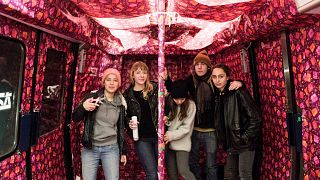 Artists wrapped a Paris Metro train in Christmas paper in a stunt to spread some festive cheer.
Production company Sisaprod covered part of the Ligne 8 train in pink wrapping paper at 6am on Friday.
But it did not please the firm that runs the Paris Metro, RATP, who took the train out of service after they were alerted to the stunt.
Clea Polar, co-founder of SISAprod, said: "We wanted to celebrate Christmas in our own way."
She added: "We had no ambition to degrade the subway, the paper could not damage the train."
Le métro c'est pas un cadeau... sauf quand c'est Noël ! cc @quoimaligne#Ratp#Ligne8pic.twitter.com/8eMJ3urnbP

— Kelly (@Janedoe783) 20 Décembre 2013
Métro boulot dodo, on peut rajouter cadeau maintenant ! #ligne8

— Goz (@gozland) 20 Décembre 2013