Saudi man arrested for giving free hugs
Comments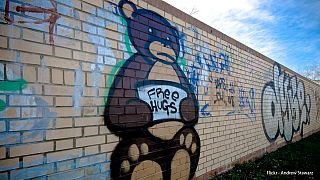 A man in Saudi Arabia has been arrested for giving out 'free hugs' in the capital, Riyadh.
Abdulrahman al-Khayyal and his friend, who have since been released, went out on one of the city's biggest shopping streets carrying a sign saying 'free hugs'.
However the 21-year-old and his friend were quickly arrested by members of the Commission for the Promotion of Virtue and Prevention of Vice (CPVPV) for violating the law and engaging in 'exotic practices'.
The two men were made to sign a document pledging that they would not repeat their cuddle campaign, however on Twitter al-Khayyal said he was proud of what he did and would do it again.
The CPVPV, also known as the Mutaween, are the Saudi 'religious police'. Their job is to enforce the government's Sharia law, which includes preventing any socialising between unrelated men and women, stopping all homosexual activity and ensuring that all Islamic dress codes are upheld.
A picture of the 'free hugs' placards was posted by al-Khayyal on Twitter before the two men took to the streets.
ان شاء الله اليوم بالتحلية #فري_هق@B_swedpic.twitter.com/E78fy1qOVz

— BirthdayBoy#Free_hug (@DAbdualaziz) November 20, 2013
The duo were apparently inspired by a YouTube video posted earlier this week by another Saudi man, Bandar al-Suwaid, who filmed himself giving out hugs at the same location.
Bandar al-Suwaid's video quickly went viral, racking up nearly 1.5 million hits in 3 days.
@DNOOH@S3ddMS@ksta13891@Basel_th@B_swed وش الفرق؟ pic.twitter.com/AqAC259kR0

— S (@SalehBinIbrahem) November 21, 2013
Watch the video here: