Scientists question if men should sit down to pass urine
Comments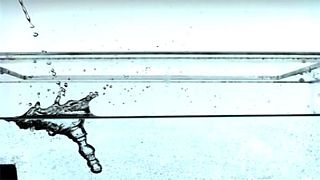 US physicists studying urine "splashback" say men should consider sitting down to pass water.
Experts from Brigham Young University's Splash Lab simulated a toilet scene by filming a jet of liquid hitting a body of water.
The team, who had their research published in Physics of Fluids, said: "This stream of water is a simulated urine stream entering a body of water similar to a toilet.
"The amount of splash is considerable and should make one reconsider standing up to urinate.
"The repeated impact of the droplets opens up a large and interesting cavity with multiple ridges. Each droplet forms a small cavity wherein the next droplet can pass through and form a cavity an additional cavity creating a chain of small cavity structures. Splash is formed both from the initial impact as well as the collapse of this large cavity. The process repeats itself over and over creating a real mess."