Bulgaria Socialist-led government faces no-confidence vote
Comments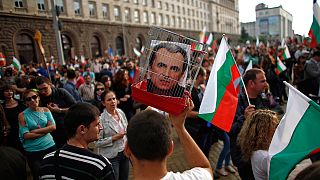 Bulgaria's opposition GERB party on Thursday called a vote of no-confidence against the Socialist-led government in a move which is unlikely to topple it but will deepen political uncertainty in the European Union's poorest country.
Centre-right GERB accused Prime Minister Plamen Oresharski's four-month-old government of fuelling bureaucracy and holding up construction and infrastructure investment in its newly created ministry of investment planning. The coalition of the Socialists and the ethnic Turkish MRF party is one seat short of a majority in the 240-strong chamber, but enjoys the unofficial support of the nationalist Attack grouping which has 23 deputies.
The vote is expected to take place on Wednesday. GERB, led by former prime minister Boiko Borisov, initially planned to seek a motion against the government's general policy, but changed its plans and said it would focus instead on a series of no-confidence votes on specific policies. "As for the motive we chose for the no-confidence vote – the investment planning – there is a complete failure. They have not even started to do anything," Borisov told reporters.
The motion will deepen the political crisis in the Balkan country, where the government has faced street protests and opinion polls showing it is the least popular administration since 1996. Protests against corruption escalated with a siege of parliament in July.
They have since eased, but recent opinion polls showed that over 50 percent of Bulgarians still believe the government should step down by May next year.
Despite the public discontent, the ruling Socialists maintain their lead with 20.9 percent support compared to 17.9 percent for GERB, an opinion poll by independent Sova Harris, carried out in early September, showed. The previous GERB government was forced to step down in February after massive protests over high utility bills.
(Reuters)