The upcoming Winter Olympics in Sochi Russia has put the country's attitude towards gay rights in sharp focus.
Although homosexuality is legal in Russia, its parliament has recently voted in favour of banning "gay propoganda" directed at young people.
It has arguably put Russia and the international community in an orbit of inevitable conflict.
Recent comments by pole vault champion Yelena Isinbayeva – that allowing the gay community to distribute material would cause problems – has only fueled the fire of controversy.
But, despite this controversy, Russia is not considered one the most "hostile" countries for homosexuals.
Today, being gay is illegal in 76 countries. Punishments range from short-term to life imprisonment, forced psychiatric treatment, deportation, flogging and death by stoning.
In May 2013 the International Lesbian and Gay Association (ILGA) announced the results of a study on the state of international Lesbian, Gay, Bisexual, Transgendered (LGBT)community, stating the relevant laws in each country: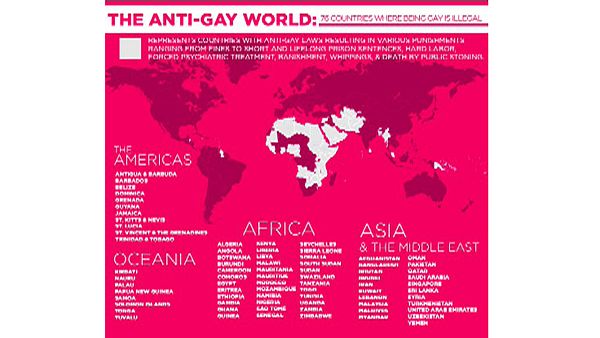 Afghanistan: Imprisonment
Algeria: Fines and up to three years in jail
Angola: Fine, imprisonment and hard labour
Antigua & Barbuda: Up to 15 years in jail
Bangladesh: Fine and up to 10 years in jail
Barbados: Sentences vary up to life imprisonment
Belize: Sentence up to 10 years in jail
Bhutan: Up to one year in jail
Brunei: Fine and up to 10 years in jail
Botswana: Up to 5 years in jail
Burundi: Fine and up to 2 years in jail
Cameroon: Fine and up to 5 years in jail
Comoros: Fine and up to 5 years in jail
Dominica: Up to 25 years in jail and psychiatric help
Egypt: Being gay is not illegal although there have been arrests in 2012 under the law for "sexual behavior"
Eritrea: Up to 3 years in jail
Ethiopia: Sentences vary from one to 10 years in jail
Gambia: Up to 14 years in jail
Ghana: Sentences vary from 5 to 25 years in jail
Grenada: Up to 10 years in jail
Guinea: Fine and up to 3 years in jail
Guyana: Sentences vary from 2 years to life imprisonment
Jamaica: Up to 10 years in jail
Iran: Death penalty
Kenya: Sentences vary from 14 to 25 years in jail
Kiribati: Up to 14 years in jail
Kuwait: Up to 7 years in jail
Lebanon: Up to one year in jail
Liberia: Up to one year in jail
Libya: Up to 5 years in jail
Malawi: Up to 15 years in jail
Malaysia: Up to 20 years in jail and wiping
Maldives: Confinement at home for women, exile and flogging for men
Mauritania: Death by public stoning
Mauritius: Up to 5 years in jail for men while gay relations between women are legal
Morocco: Fine and up to 3 years in jail
Mozambique: Up to 3 years of hard labour
Myanmar: Fine and up to 10 years in jail
Namibia: Imprisonment
Nauru: Sentence in hard labour up to 14 years
Nigeria: Death penalty for men, whipping and imprisonment for women in 12 provinces and up to 14 years imprisonment in the rest of the country
Oman: Up to 3 years in jail
Pakistan: Sentences vary from 2 up to 10 years in jail
Palau: Up to 10 years in jail
Papua New Guinea: Up to 14 years in jail
Qatar: Up to seven years in jail for non Muslims and death or corporal punishment for Muslims
Samoa: Up to 7 years in jail
Sao Tome & Principe: Hard labour
Saudi Arabia: Exile, wiping and death by public stoning
Senegal: Fine and up to 5 years in jail
Seychelles: Up to 14 years in jail
Sierra Leone: Life imprisonment
Singapore: Sentence up to 2 years in jail for men while gay relations between women are legal
Solomon Islands: Sentence up to 14 years in jail
Somalia: Death by stoning in the south regions, imprisonment up to three years in the rest of the country
South Sudan: Fine and up to 10 years in jail
Sri Lanka: Fine and up to 10 years in jail
Saint Kitts & Nevis: Fine and up to 10 years in jail with hard labor
St Lucia: Up to 10 years in jail
St Vincent & the Grenadines: Up to 10 years in jail
Sudan: Sentences vary from 5 years in jail to life imprisonment, wiping and even death penalty
Swaziland: Fine and up to 2 years in jail
Syria: Up to 3 years in jail
Tanzania: Sentences vary from 20 years in jail to life imprisonment
Togo: Fine and up to 3 years in jail
Tonga: Up to 10 years in jail and wiping
Trinidad & Tobago: Up to 25 years in jail
Tunisia: Up to 3 years in jail for men while gay relations between women are legal
Tuvalu: Up to 14 years in jail
Turkmenistan: Up to 5 years in jail for men while gay relations between women are legal
Uganda: Sentences vary from 14 years in jail to life imprisonment
United Arab Emirates: Various punishments with the death penalty included
Uzbekistan: Up to 3 years in jail just for men
Yemen: Up to 7 years in jail, wiping even death penalty by public stoning under circumstances
Zambia: Sentences vary from 15 years to jail up to life imprisonment
Zimbabwe: Fine and up to 10 years in jail for men while gay relations between women are legal