Eileen Brennan actress of "Private Benjamin" dies
Comments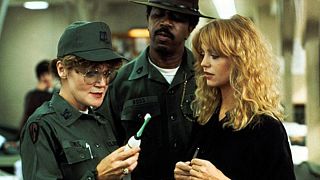 American actress Eileen Brennan, best known for her Oscar-nominated role in the 1980 film "Private Benjamin," has died from bladder cancer. She was 80.
Los Angeles-born Brennan died on Sunday at her home in Burbank, a Los Angeles suburb, surrounded by her family, said Kim Vasilakis, a media representative for the actress.
"Our family is so grateful for the outpouring of love and respect for Eileen," Brennan's family said in a statement. "She was funny and caring and truly one of a kind. Her strength and love will never be forgotten. She will be greatly missed by all of us."
Brennan earned a best supporting actress Oscar nomination in 1981 for her role as U.S. Army Captain Doreen Lewis in the comedy "Private Benjamin," starring alongside Goldie Hawn.
"No one ever made me laugh more! Now I cry," Hawn wrote on Twitter about Brennan. "Please keep singing, darling, from on high."
Brennan reprised the role of Doreen in the TV adaptation of the film from 1981 to 1983, for which she won an Emmy award and a Golden Globe.
The actress also appeared in TV series such as "Murder, She Wrote," "7th Heaven" and "Will & Grace," and last appeared in the 2011 comedy film "Naked Run."
Brennan is survived by two sons, Sam and Patrick, and two grandchildren.
REUTERS