Watch: Which three documents were given to Aquarius migrants in Spain?
Comments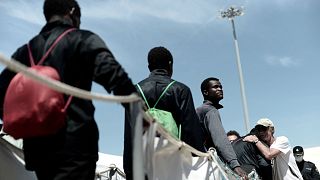 As the Aquarius rescue ship docked in Spain, flanked by two other Italian boats, the migrants on board were given a choice, represented by three forms.
Euronews' Anelise Borges filmed as aid workers explained the documentation to passengers.
One would allow them to stay in Spain for 45 days — a humanitarian permit while their asylum requests were assessed, according to the government.
The next two papers allowed the migrants to apply for asylum in Spain or France.
Spanish Deputy Prime Minister Carmen Calvo said that any migrants who wish to go to France would be allowed to do so, providing they had a legitimate claim to asylum.
Among those filling out paperwork included seven pregnant women and 123 unaccompanied minors.
No serious illnesses were reported among the migrants, who the Spanish government had promised medical assistance and psychological help for everyone on board.