Thousands march for independence in Scotland
Comments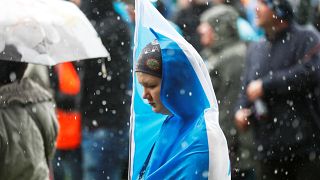 Thousands of protesters have descended on Glasgow, Scotland, on Saturday in a mass call for independence, four years after a referendum failed to secure the result.
The organisers All Under One Banner advertised the annual event on Facebook for "everyone who desires an independent nation". Around 17,000 protesters took part last year, according to the group, and if a higher turnout today is confirmed, further pressure could mount on the governing Scottish National Party (SNP) to stage a second referendum.
A vote on whether Scotland should separate from the United Kingdom, in which 84.6% of the electorate took part, was previously held in 2014. But the No camp (55.3%) won, prompting Yes campaigner and the then-First Minister Alex Salmond to resign, making way for his SNP deputy Nicola Sturgeon to replace him.
Yet a Brexit vote in 2016 has since reignited the independence debate in Scotland after 62% of the nation's electorate voted to stay in the EU, more than any other country in the UK.
And Sturgeon, who still governs Scotland as leader of the SNP, has said a decision on whether a second referendum should be held would be delayed until later this year when Britain's EU-exit terms become clearer.