First minister Nicola Sturgeon says staying in single market the only sensible option for Scotland
Comments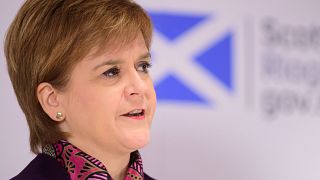 Scotland's First Minister Nicola Sturgeon says a so-called "no deal" Brexit without a trade agreement would cost Scotland's economy 14 billion euros (12.7 billion UK pounds) a year.
The analysis commissioned by Scottish Government sets out three different Brexit outcomes on GDP, trade and immigration, and indicates remaining in the European single market and the customs union would be the least damaging economically, Sturgeon said.
She said the evidence presented in the document shows that "the best way to minimise the economic damage of Brexit is to stay inside the single market."
Sturgeon called on the government to "stop being driven by the obsessions of the hard Brexit wing of the Conservative Party."
"Keeping the Tory party together in an uneasy truce cannot and must not be a more important consideration and aspiration for the UK government than the job prospects, living standards and opportunities for this and future generations," she said.
Sturgeon said on BBC's Andrew Marr show on Sunday (January 14) that she would be able to make a judgement on whether to hold a second referendum on Scottish independence by the end of this year after the s hape of a deal between Britain and the European Union becomes clear.