Colombia delays peace talks with Marxist ELN rebels
Comments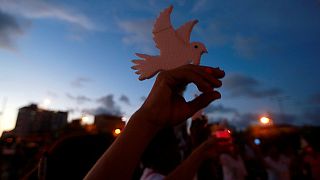 Colombia's delayed peace talks with Marxist ELN rebels at the last minute – demanding that a politician, held captive for six months, is freed.
President Juan Manuel Santos says the National Liberation Army has to release Odin Sanchez before talks can begin in Ecuador.
The discussions had been due to get underway on Thursday evening.
The International Red Cross is said to have begun the process of Sanchez's release.
The 2,000-strong ELN is considered a terrorist group by the US and European Union.
It has kidnapped hundreds of people during its 52-year insurgency to raise war funds and used hostages as bargaining chips with the government.
Founded by radical Catholic priests and inspired by Cuba's 1959 revolution, the ELN has been in on-and-off closed-door talks with the government since 2014 on how the two sides would conduct negotiations.
The rebels have remained active during that time, kidnapping and bombing oil installations, though in recent months they have released some captives.
Formal peace talks are likely to mirror those held with the leftist Revolutionary Armed Forces of Colombia (FARC).
The peace agreement, signed on 26 September with the FARC, was internationally lauded but criticised by many in Colombia for being too lenient on the rebels.