Dozens die as Tropical Storm Jangmi sweeps across south east Asia
Comments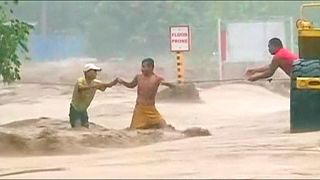 Dozens have been killed in heavy rains and flash floods across parts of the Philippines, Malaysia and southern Thailand.
Officials say Tropical Storm Jangmi has left at least 31 dead in the Philippines. Seven people are reportedly missing.
Sweeping from east to west, winds of up to 65 km/h and gusts of 80 km/h have ravaged the region.
Officials in the Philippines say areas affected by the heavy rains include those still recovering from last year's Typhoon Haiyan.
Flooding has wiped out roads and bridges and forced thousands of residents to flee to evacuation centres.
Malaysia is suffering its worst flooding in a decade, forcing almost a quarter of a million people from their homes, officials report.
The National Security Council rebutted criticisms of a slow response, claiming 'exceptionally high' water levels had isolated rescuers from relief centres.
"No matter how prepared we are, there will always be a bigger and more devastating disaster that tests the capability and resources of the country," the council announced in a statement on news site the Malaysian Insider.
More than 20 people in the northeast have died. In neighbouring southern Thailand, the death toll is believed to be at least 15.