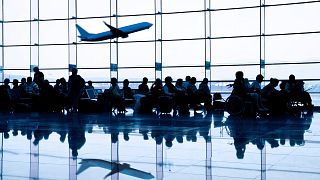 -
Airline strike action has been threatened across much of Europe in recent weeks, adding another dimension of chaos to what should have been international travel's bright year of recovery. 
Cancellation, delays, missing baggage and hours-long queues are already having an unavoidable impact on summer travel across Europe. Now, is strike action likely to affect your holiday too?
Sweeping job and pay cuts during the pandemic are behind much of the disruption. Staff shortages have affected the passenger experience, but they've also seriously impacted people working in the industry. 
So it should come as no surprise that unions are striking over working conditions.
Europe's low cost airlines are likely to be among those worst affected by staff walkouts, some of which have already taken place.
Last minute cancellations and general disorganisation at easyJet have even led unions to claim crew members face a "serious safety risk," unwillingly working on days off to prevent further disruption.
So what do we know so far about the airlines and airports which could be impacted by strikes this summer?
When are Ryanair workers striking?
Ryanair workers in Spain have announced strike action between 25 July and 28 July. The airports that might be affected include Madrid, Málaga, Seville, Alicante, Valencia, Barcelona, Girona Santiago de Compostela, Ibiza and Palma de Mallorca.
Cabin crews have staged several walkouts over the last few weeks in Belgium, Portugal and Spain. Disputes centre around pay and working conditions.
Trade unions in Belgium say they have been forced to take action as Ryanair is not respecting labour laws. 
The airline maintains that strike action is unlikely to cause widespread disruption over summer, but travellers have been experiencing delays. 
On Monday, the airline said airports were to blame for flight disruptions and delays during staff strikes. Chief Financial Officer Neil Sorahan said airports "had one job to do and that was to make sure they have sufficient handlers and security staff."
When are easyJet workers striking?
EasyJet cabin crew based in Spain have been striking throughout July, as announced by the Unión Sindical Obrera (USO).
They staged walkouts in early and mid-July and will go on strike again from 29 to 31 July - just as the summer holiday season starts.
Around 450 workers are expected to take part in the walkout. 
Flight attendants are protesting low wages, asking for a 40 per cent increase to their basic salaries. USO says it represents around 80 per cent of the 450 easyJet staff based in Spain.
The airports likely to be affected are Barcelona's El Prat airport, as well as Malaga and Palma de Mallorca. EasyJet has said it will operate its full schedule but admits there may be disruptions to some journeys. 
When are British Airways workers striking?
British Airways (BA) pilots are threatening to take strike action over the summer in a move that could see major disruption to flights.
Pilots are threatening to walk out in a row over wages after salaries were cut by 20 per cent in 2020 during the pandemic.
Their union, the British Airline Pilots Association (Balpa), said its members were frustrated by the airline's refusal to reverse the pay cuts.
The pilots are calling for a further increase in pay as air travel returns to pre-pandemic levels. 
A strike by pilots could cause major chaos and see the majority of BA flights grounded.
Hundreds of check-in and ground crew staff, including baggage handlers, based at Heathrow airport had also been planning to strike following a disagreement over wages. However, the walkout was cancelled on Friday after staff accepted a pay rise offer.
Unite, one of the unions representing BA staff, accused the airline of treating its staff as "a second-class workforce".
Many of those who voted for the strike were low paid women.
When are Lufthansa workers striking?
Lufthansa has said they will scrap more than 1,000 flights after ground crew announced they a strike on 27 July.
Germany's flagship airline will axe almost all services at Frankfurt and Munich airports on Wednesday. Around 134,000 passengers are likely to be affected.
On Monday, German trade union Verdi called on around 20,000 Lufthansa ground employees to stage a "warning strike" on Wednesday before pay negotiation talks planned for 3-4 August.
The union is calling for a 9.5 per cent pay rise or at least €350 per month for ground crew. It is also seeking a minimum hourly wage of €13.
The walkout will begin on 27 July at 3:45 a.m. CET and continue until 6:00 a.m. July 28.