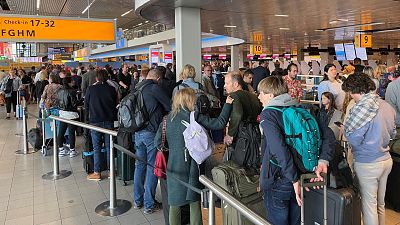 -
Amsterdam's Schiphol airport has been the scene of long queues and flight cancellations over the last week.
The chaos will likely worsen over the weekend, as airport management refuses to rule out another round of cancellations.
What's going on at Schiphol airport?
The airport - Europe's third busiest - has today again warned of "long queues at check-in, security and passport control."
At least 15 flights from Schiphol have been cancelled today.
The chaotic scenes will likely worsen over the weekend, as thousands of Dutch families return from school holidays. Local newspaper Het Parool predicts that 194,000 travellers will pass through the airport on Sunday alone
Airport management has refused to confirm whether or not the airport will ask airlines to cancel flights, as they did last weekend.
"At the moment it is not yet possible to answer that question in black and white with a yes or no," a spokesperson said
"In the talks with the airlines, the emphasis is now mainly on moving flights to other airports."
Regional airports will take at least 35 flights initially scheduled for Schiphol this weekend.
What is causing the delays at Schiphol?
The predicted cancellations are the latest development in weeks of chaos.
Last weekend, the Netherlands' national airline KLM cancelled more than 70 flights from Schipol, while other airlines - including Transavia, Tui and Corendon - rerouted flights to other Dutch airports.
The airport had requested the cancellations due to a staff shortage.
"It is an annoying but necessary measure to reduce the numbers of travellers, in order to manage the crowds in the right direction together with our partners," a Schiphol spokesperson explained.
On Saturday, passengers were asked to arrive more than four hours before departure, and the fire department were called in to distribute water bottles to queueing passengers.
The airport suffered from lengthy delays earlier in April after KLM baggage handlers staged a strike to protest working conditions.
Will things improve at Schiphol airport?
Trade union FNV has warned that it will be a 'hot summer' unless the airport urgently improves working conditions.
The union has written to the airport's chief executive Dick Benschop with a list of demands, including job permanency and higher wages.
As the airport gears up for its busiest season, Mr Benschop has promised that the situation will improve.
"It is clear to us that the summer has to be different," he said yesterday. "This must not happen again."
Possible changes could include a flight cap on the number of flights leaving from Schiphol during the busiest periods of the year.
Passengers can check the status of their flight here.
Watch the chaos at Schiphol airport in the video above.