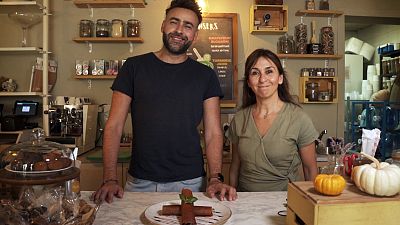 -
Healthy vegan food is often referred to as bland, boring, expensive and inaccessible. Ghalia Alul and Nabih Al Momaiz opened the award-winning vegan eatery 'Little Erth' to challenge this perception. With their vegan recipes, they aim to showcase that plant-based food can be much tastier than fast comfort food, whilst being super healthy and guilt-free.
Little Erth is catering for the growing demand for plant-based foods in Dubai. Ghalia Alul said, 'We opened in 2017, and since then, many vegan eateries have opened'. This demand has seen a steady increase globally over the past five years. Previously, maintaining a plant-based diet might have involved some research to find suitable ingredients or eateries. Now, it appears that every corner shop stocks 2 or 3 alternatives to cow's milk. Plant-based 'Beyond Beef' burgers are readily available at most burger hotspots, and even McDonald's have recognised the demand with their 'McPlant' menu.
Vegan Diet
When asked, 'what is the main reason people become vegan?' Nabih explained, 'there are many reasons, not just one, it depends on the individual'.
Many people become vegan for eco-friendly purposes. Plant-based diets can help reduce the overfishing of popular species. A vegan can save 2.8 square metres of forested land a day by avoiding beef, lamb and pork. Emissions from livestock account for about 14.5 - 18 per cent of the total greenhouse gas emissions globally. Dubai based ex-pat Colm Smith said, 'I stopped for environmental reasons. Once I learned the impact the meat industry had on the environment, I couldn't continue to eat it in good conscience.
Others turn to veganism as a solution to animal cruelty. Dubai resident Laila Alhorani explains why she became vegan. 'For the animals! Every living being deserves a chance to fight for its life. In the wild, an animal has a chance of survival when being hunted by its predator'.
Ghalia Alul of Little Erth told Euronews that 'recently people have become much more health focused'. Alul has focused her culinary career on raw foods. She said, 'Raw means that it's not cooked at a high temperature, and when you don't cook at a high temperature, you maintain the digestive enzymes alive in the food'. This helps your body to digest and absorb the nutrients from the food.
How to become vegan
When discussing the steps of moving to a plant-based diet Nabih explains that first, you must define why you're going plant-based. If it's for health benefits, you should focus on how you cook the ingredients. If you want to become more eco-friendly, you must source ingredients with a low carbon footprint. For example, an avocado is an excellent source of healthy vitamins, but it has a large carbon footprint to produce and sell.
Ghalia stressed that education is essential. She advises that "before changing your diet, read about it and know the benefits you want to receive from it. Too often, people get excited
and jump into a plant-based diet and only maintain it for a short time". Starting slow is key to successfully becoming vegan. One plant-based meal a day for a week, then increase until entirely plant-based.
Vegan Recipe
Ingredients
30 grams of papaya
1 carrot
1 cucumber
1 mango
Guacamole
7 grams basil cashew cream
Mint leaf and coriander to taste
Method
1. Blend fresh papaya until smooth.
2. Spread the mix on dehydrator sheets.
3. Dehydrate for 10 hours.
4. Once ready, cut it into squares.
5. Add basil cashew cream, shredded cucumbers, carrots, mangoes, mint leafs, coriander, guacamole.
6. Roll into a wrap and enjoy.