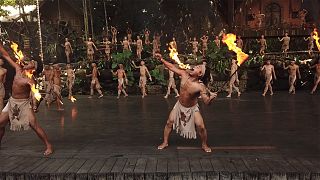 Beneath the betel trees in the Binglang Valley on the southern tip of China's Hainan island, remains a living example of Sanya's rich heritage.
Preserving traditions and customs that date back generations, the island's Li and Miao people captivate the crowd with traditional dance displays.
The Li are thought to be the first people to have settled on Hainan island, and now they can be found at the Li and Miao Cultural Heritage Park.
Strolling around the park and you can meet the Li and Miao communities face-to-face. 
Even see where they live and taste some of the best food in the region, such as rice with marinated pork, cooked in bamboo and banana leaves.
"Hainan Island has five dialect regions, each region has its own traditional dress and languages," says Guodong Chen, the Deputy General Manager of the Park.
"The Li ethnic minority live in boat-shaped houses, which looks like an upside boat from a distance."
This show of traditional even extends to weddings, a big attraction for visitors to the Li and Miao Cultural Heritage Park.
Sanya's vibrant food scene
Head out of the Binglang Valley, into central Sanya and you'll discover all sorts of weird and wonderful seafood at the bustling Sanya Huochetou Seafood Market.
"Seven to 8 pm is our peak hour here," says Local chef,  Biao Wu. "The shrimps, crab, and fish come from our fleet of 10 boats, which send them to us daily to ensure their freshness."
Once you've bought your fresh seafood, you can take it to a nearby restaurant to be prepared and cooked.
Then, when the sun goes down, another type of market comes to life with street sellers offering all sorts of gifts and goods. Such as sugar art creations, of animals representing your Chinese birth year.
"This is the first street market in Sanya, actually," says Maksym Nikolenko, General Manager, Sanya Holiday International Travel Service.
 "This is a really important place for foreign tourists. You can buy a lot of souvenirs at night time. And close to this place you can find local traditional food, like noodles."
Noodles such as Hainan, or rice noodles, are one of the most popular noodles in Sanya.
Whilst Sanya's beaches and mountains are a magnet for tourists. this paradise destination offers a vibrant and colourful cultural experience too, which can be found around every corner.