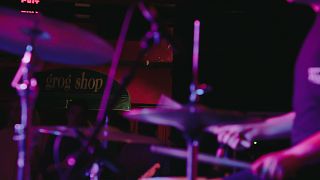 We've been travelling across the USA with Northern-Irish singer-songwriter Foy Vance to discover some of the country's best music, cuisine and culture. The journey continued in Cleveland, Ohio, music city of excellence, known to many as the 'home of rock'n'roll'. Foy toured the city in the company of Laura DeMarco, a third generation Clevelander, historian and a fellow music lover.
"A lot of time people think that the Rock Hall makes Cleveland a music city but we were a music city before that, and that's why the Rock Hall is here! The world's first rock concert was held here in Cleveland," says Laura.
One of Foy's favourite music spots was The Grog Shop, a live music venue since 1992.
The Grog Shop started as a random initiative: "We were young and dumb, didn't have anything else to do with our lives and said: let's open a bar!", owner and founder Kathy Blackman told Foy.
The club has opened its doors to world-famous groups like Flaming Lips, Oasis, Supergrass, Black Keys, and Panic! at the Disco. But it has also become 'the place to play' for up-and-coming bands.
"We say that you need to be nice to us because we'll see you on the way up and on the way down, that's our adage", joked the boss of the 27-year-old venue.
The Grog Shop has been blessed with its location, positioned between Chicago and New York, it is a popular stop off for artists touring the big cities.
"People get a really personal experience when they see their favourite band play at The Grog Shop", says Kathy, describing the intimate stage which touches the crowd's knees.
For Foy, the place has a "killer energy" which he experienced first-hand when he saw American band Frankie Cosmos perform their latest album: Vessel, which he "loved".