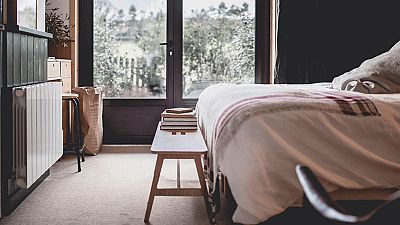 Why invest all your hard-earned money in a secondary residence when you can simply escape to a farm-like hotel, only 40 minutes away from Paris? That's the statement this hotel has been trying to make, ever since its opening last summer – and its success speaks for itself. With a wide range of activities and commitments, this place could become your other "home".
Nestled in the Rambouillet forest, set amongst oaks, elms and silver birches, Le Barn lies at the heart of a 200-hectares estate, with nature as its essence. Opened a few months ago, it's already extremely popular among active Parisians willing to spend a weekend away from the city's hassle, and replace the urban crowd with harmless horses, hares, herons and deers roaming free.
"Reconnecting with natural elements", that's the promise of this one of a kind experience. In order to do so, you might as well disconnect your phone even though it's a very instagrammable place, and leave your laptop at home. It's about time you enjoyed some "me-time"! Ride a horse for a couple hours, take a hike in the forest or sign up for a yoga class. You hardly ever have time to book a massage appointment in the city? Well, the hotel has an on-call ayurvedic therapist who will rub you back to life.
A modern and sustainable vision of hospitality
You're up for a city break but still are in a party mood? You've come to the right place as well. Pre-order a luxurious picnic in the woods, and enjoy the hotel's great wine selection while wondering what type of tree you're sitting under because, let's face it, you barely ever notice those in the city. Take a walk around the domain and don't forget to take a few pictures of the hotel's very special design, conceived and developed by Studio Bepoles and landscape architect Daphne Charles-Le Franc, to embody a modern and sustainable vision of hospitality.
(Happily) burdened with kids? Then you've finally found a true panacea. Since its opening, young parents who just can't get enough of this home away from home and break from parenthood. Indeed, the domain is so big that children can run around freely and breathe some clean fresh air after a week spent in a polluted atmosphere. Moreover, it's a great compromise. If you're too busy with work and your family to see your friends (who are just as busy), plan a weekend trip all together and bring your kids along. Book the dormitories and recreate a camp-like vibe for all of them – while hiring a nanny to supervise them all. Sounds like heaven, right?
A family farmhouse
And that's only the tip of the iceberg – myriads of activities are organised every day in this family farmhouse: horseback riding, golfing, cycling, hiking, french "pétanque", badminton, football, scandinavian mölkky… it's just like the Olympics, only better. But if you feel like doing nothing, as weekends should allow you to, take a dip in the nordic baths set in the middle of nature while spying on deers passing by. At night, a small screening room allows guests to get together and watch great classics of French and international cinema.
A seasonal kitchen
Not keen on sports or farniente? Team up with the hotel's chef create the menu of the day – fresh organic products, fruits from the orchards, vegetables from the garden and honey from the nearby hives. As a matter of fact, Le Barn is also home to a small permaculture farm, an affirmation of the hotel's commitment to the sustainable living and self-sufficiency of the land. The vegetable garden uses the market gardening approach - vegetables, fruits and herbs are produced and then served, in a seasonal kitchen in both of the hotel's restaurants.
Don't feel like getting your hands dirty? There's something for you too: sign up for the introductory mixology class and create your very own cocktail recipe. Let the well experimented bartender know its composition (in case you forget after one too many) and enjoy it each time you return – brace yourself, you're going to become a regular, just like many guests here already have. And to make it easier for you, the hotel has launched The Cloakroom, a personal cupboard designed for clients to leave a few things behind in between visits, from one stay to another. Truly just like home… away from home.
Double rooms from €200