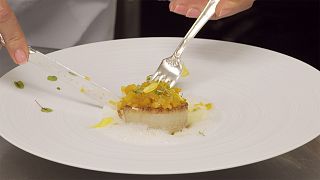 Pan-fried scallops on a bed of sweet potato puree, with an orange emulsion.
1 scallop
For the sweet potato puree:
100g sweet potato

50g cream

5cl milk

15g butter
For the emulsion:
50g yoghurt

15cl milk

1.5cl double cream

orange zests
For the apple & onion jam:
30g apples

15g onions

2cl cider vinegar

A little water

Saffron

5g sugar

ginger
To dress the dish
Step by step:
Cook the sweet potato and finely puree it. Add the milk, cream, and a scrape of butter.
Warm the milk, double cream and yoghurt while grating the orange into the mixture.
Cook the apple and onions with the vinegar and saffron.
Pan-fry the scallops in butter over a high heat.
Dressing the plate :
Serve one spoonful of sweet potato puree, then gently pour a spoonful of emulsion over the top.
Scatter the apple/onion jam over the scallops.
Place the scallops onto the puree and emulsion bed.
Ring the dish with assorted flowers and green shoots.