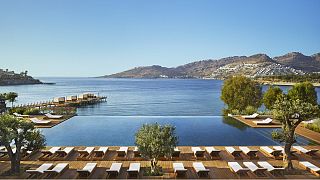 Did you know you're only a flight away from social media stardom? Here's your guide to the most perfect weekend getaway, with no digital detox and a lot of WiFi.
Your journey starts at the airport's arrival door when you board the hotel's latest Range Rover. Greet the driver merhaba (hello) and enjoy the coast road leading to the hotel. That'll do for your first Instagram story.
Half an hour later, you've reached the western point of the Bodrum peninsula, Turkey's original south Aegean seaside resort surrounded by the Gulf of Mandalya (Gulluk Bay) in the north, the Gulf of Kerme (Gokova Bay) in the south and the Aegean Sea in the west. This is where you'll check in at the Marriott's Edition collection's new addition. A 102 guest rooms, suites and villas resort that recently opened.
Head to your room and, before unpacking or even lying on the bed - no mess allowed - film a quick tour of the room. With stone floors, marble baths, oversized windows perfectly framing the garden and clear-blue Aegean Sea, each room make up for a great picture. Upgrade for the additional luxury of a suite with a private terrace or, even better, a personal villa with your own swimming pool. #lifegoals
By the time you're done touring your room, suite or villa whilst deciding what to write as a caption for your Insta post, sharing it with the proper hashtag AND replying to all your comments, it's probably going to be dinner time. That's when you head to Brava.
Brava is the Latin American gourmet restaurant, which menu is inspired by Mediterranean and Asian flavors and imagined by the pioneering Peruvian chef Diego Muñoz (formerly chef of El Bulli, Mugaritz). Find the perfect spot to get the fairy lights and wooden decor in the background and take a snap of your meal because #foodporn never gets old. We recommend ceviche followed by the fish of the day or the exquisite lomo saltado.
Wash it down with a signature cocktail, like the Citrus Spritz, while sitting at the bar overlooking the sea and enjoy a breeze of fresh air. It's time to move to the oriental garden lounge to order another round or two, but most importantly let the high-skilled bartender surprise you. If you feel like going Live on social to share how amazing you feel at this instant, it means you've had one too many and should get back to your room. You're welcome.
Waking up the next morning, it's time for your "I woke up like this" publication. On the right hand-side of your bed, click on the "open curtains" button and wait for it - as you activate your phone camera. The windows will slowly unveil your ocean view terrace. It's ok if you didn't get it the first time. Just keep going back and forth until you do. It's what these buttons are here for.
Following this highly dramatic #roomwithaview moment, head to Kitchen for a breakfast. It will feel like a trip around Turkey. This Mediterranean mezze experience focusing on health and wellness starts with a detox shot and includes an assortment of specialties such as suçuk (turkish sausages), various kind of cheeses, fruits, fresh honey from the beehive, and vegetables. A culinary journey that needs to end up on your followers feed asap.
After this feast, it's time for digestion. Throw on your swimsuit, head to the beach and lay on a deckchair while watching the waves. That's your "office for the day" picture. The one that will make you lose a few followers but will definitely revamp your profile.
For something more James Bond-esque, walk to the beach club and climb on the jetty that houses private cabanas (upon booking). Now there's the perfect scenery for your bikini shot. Unleash the Kim Kardashian in you and work that photoshoot like a pro. As momager Kris Jenner would put it: "You're doing amazing, sweetie".
Had enough of the salty water? Head to the infinity pool for infinite possibilities of Story material. Don't forget to put sunscreen while brainstorming your next social media move. Will it be a boomerang of your feet dangling in the clear water or a panoramic view of the breathtaking setting? Either or, next on your "not to do" list is to book a treatment at the hotel's state-of-the art spa.
Does it feel like your day of farniente (literally "doing nothing" in Italian) is over? Head to the Turkish hammam and keep on doing nothing while getting a complete body scrub. It's then time for your facial with Natalia, an extremely qualified Ukrainian therapist who will help you recover from any sun damage and rejuvenate your skin.
Ninety minutes of rubbing, scrubbing, peeling with extravagant Hungarian mud products that will make your face feel brand new. That's selfie time! Grab a towel and roll it up in your hair. It's the perfect accessory for a #bathleisure moment to remember.
Once your treatment has come to an end, enjoy a hot cup of tea while admiring the sunset on the clear blue Aegean Sea. The next day, rinse and repeat. At some point, take your eyes off your screen and admire the landscape. It's worth a thousand pictures.
Our journalist flew to Bodrum with Pegasus Airlines from Paris Orly Airport. Pegasus connects 42 countries to Istanbul with connecting flights to Bodrum. Visit www.flypgs.com for more information.