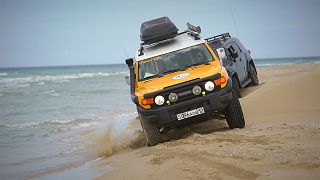 Miles of white beaches, sand dunes and blue water. The Caspian Sea offers truly unexpected views.
A hundred kilometers from the shore of this sea, which is actually a lake - the biggest lake in the world, you can go into a completely different world.
Euronews journalist Marta Brambilla Pisoni explored adventures in Kazakhstan off-road, from the Caspian Sea to the Black Mountain, passing through the Silk Road.
The Torysh Valley is a lunar desert, a huge expanse of round stones of all sizes, whose formation remains a mystery to this day.
Pavel Khudyakov, a tourism guide for the region of Mangystau, whose capital is Aktau, took Euronews on a tour of the area. He explains that there are several versions of how these stones were created. One of them is the clash of European and Asian plateaus, which caused an electric charge and gave birth to small stones that grew into larger ones. "The second version is that it was an eruption of a volcano. And that's how these powerful stones were thrown out of the volcano," he added.