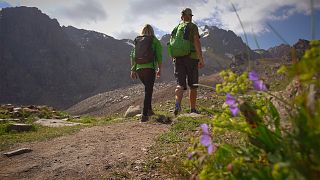 Shymbulak is one of the most popular ski resorts in Kazakhstan, not far from the city of Almaty, which is set in the foothills of the Trans-Ili Alatau mountains.
Euronews journalist Marta Brambilla Pisoni visited the region and explains that at an altitude of 3,200 metres, it is the winter sports kingdom from December to April.
In the summer season, the mountains turn into a paradise for lovers of hiking and mountain biking.
"In Kazakhstan there are many great mountains, just like those in the Alps, perhaps even higher,"Alexandr Gabchenko, a cycling guide in the Almaty region, told Euronews. "But the difference between the Alps and here is that these peaks have never been touched by man. It is still a wild place, where man has not yet had his influence. Here you can see the true wild nature," he added.
On the outskirts of Almaty, one can explore the steppe with a buggy, an activity that is becoming more and more popular in this part of Kazakhstan, and enjoy moments of pure adrenaline.