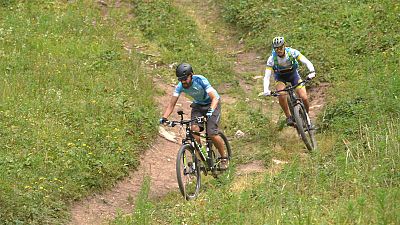 Not far from Almaty, Shymbulak is a well known ski resort during the winter months and a paradise for those who love hiking and mountain biking in the summer season, explains Euronews journalist Marta Brambilla Pisoni, who visited the region in Kazakhstan.
Just forty minutes from the center of Almaty is the Medeu Alpine sports complex, where you can take the cableway to reach the Shymbulak mountain resort, a natural park and the most popular ski resort of Kazakhstan. At the first cableway station lies the real heart of Shymbulak: a hotel, several restaurants and bars.
Further up, you get up to an altitude of 3,200 meters, at the foot of a glacier. The view is breathtaking: The peaks have nothing to envy when compared to their European counterparts. In the summer ibex, marmots and small lakes of cold water complete the list of wonders.