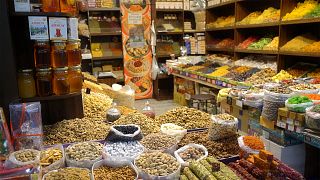 Known locally as the Green Market, Yashil Bazar is Baku's biggest.
Famous for nuts and dried fruits, figs, oranges, cherries and apricots, produce is brought to the capital from every region of the country.
"Colours, flavours and fragrances from the Caucasus. Fresh food from every corner of the country arrives each morning at the Yashil bazaar, Baku's market," says Euronews' Sergio Cantone.
Not only tasty and exotic, some of the items, like Beluga Caviar, are highly prized. But there are many other caviars on offer.
Restaurant manager Timur Fazilov says: "Well, here in this market we can find some great caviar, sturgeons, cheeses ans saffran, the main ingridinet of Plovs and overall in the Azerbaijan's cuisine, so I am buying it for my restaurant as well as many other ingredients here."
Whether it's the hustle and bustle or the haggle, Yashil Bazar is a great way to discover Baku.