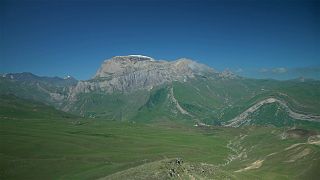 Discover the Shahdag mountain, with its wild landscape, stunning nature and outdoor activities.
The Shahdag mountain resort in Azerbaijan is renowned for its amazing beauty, high mountain herds and flocks and the traditional way of life of local villagers.
It's the perfect place to explore the Greater Caucasus range.
The Shahdag mountain stands at 4,200 meters high. It's where East meets West.
Travellers can take advantage of many activities - from riding along arduous mountain trails by bike and quads - to paragliding over awesome peaks.
Rustam Najafov, the Shahdag Mountain Resort Director, says: "Tourists can enjoy the view of the Caucasus mountains. Year round, the Shahdag resort offers different activities and in the winter we offer perfect skiing. Here tourists can have wonderful time."
The Shahdag mountain resort is easy to reach. It's 200 kilometers from Baku, the Azerbaijan capital, roughly a three-hour-road trip.