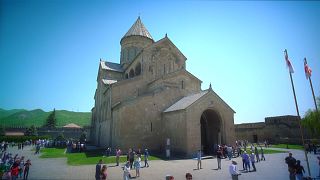 Svetitskhoveli is the main Christian Orthodox Cathedral in Georgia, located 20 km to the northwest of the capital Tbilisi. The current church was built between in 1010 and 1029 and it's the burial place of Georgian Kings and, according to Georgian tradition, it hosts Christ's Robes.
The cathedral is one of the most revered places of worship in the country and was one of the main pilgrimages sites on the Silk Road, even nowadays it hosts ancient traditions and mysterious legends.
The complex includes the church, a bell tower, a fortress and clerical residences and its highly artistic architecture dating back to feudal times has earned it a place on the UNESCO World Heritage Site list. For Georgians, Svetitskhoveli is much more than just a church or an architectural masterpiece.
"For us, Svetitskhoveli is not just a church, a religious site, a holy sanctuary or the king's graveyard. It's a place that represents the whole history of Georgia, with battles, construction, destruction and again reconstruction," explains Buba Kudava, Professor of History at the Caucasus University of Tbilisi.
The name of the church itself reflects that history as in Georgian Svetitskhoveli means the 'Living Pillar'.