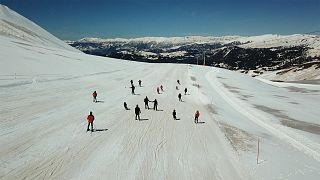 Our adventures continue in Georgia's Autonomous Republic of Adjara, at the foot of the Lesser Caucasus Mountains, north of Turkey.
"Snow-covered peaks — in the subtropics!" enthused our reporter Denis Loctier, as he skied down a slope.
"The sea shore is only 50 kilometres away! We're in Goderdzi, the newest ski resort in Adjara."
Opened just two seasons ago, this young resort is growing thanks to its proximity to Batumi, Georgia's main Black Sea resort.
Despite the mild climate, the mountains here are snow-covered from November until April.
And in the warmer months, another beautiful side of Goderdzi is revealed.
"This climate zone is actually an advantage," explained Zurab Tchurkveidze, Director of Goderdzi Resorts.
"In some seasons, you can sunbathe on a beach and then go skiing the very next day! The sea is close by, so we get a lot of snow which is also a major attraction."
The thick layer of snow, often reaching six metres at the summit, is an alluring challenge for freeriders and heliskiers attracted by the diversity of the natural terrain.
The eight kilometres of ski-runs in Goderdzi are suitable for skiers and snowboarders of all levels.