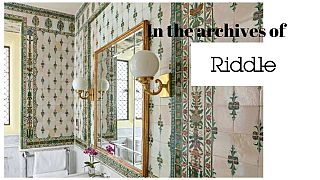 This week we partner with British magazine Riddle to bring you new and exciting stories from the world of luxury. Managing editor Rupert Watkins has opened up the magazine's archives to Living it, and we will be publishing a series of their best content everyday this week. Riddle Magazine was born to prove that "true craft, quality, style and luxury should be staples of life".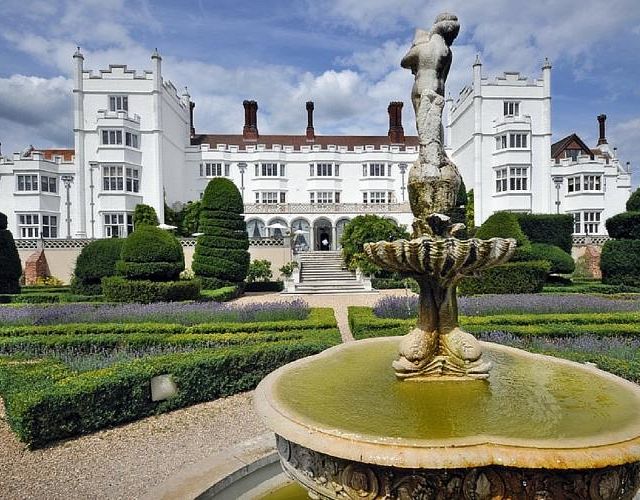 Tucked away in verdant Buckinghamshire and overlooking the Thames sits Danesfield House Hotel & Spa. The Grade II listed Victorian gothic house was an RAF photographic analysis centre during World War 2 and an Air Ministry property for some decades after the war. The grounds are, at 65 acres, quite extensive and are immaculately kept. It is celebrating 25 years as a hotel this year.
Arriving at sunset, my guest and I were welcomed and shown to our courtyard suite. One of the newer rooms in the hotel, this was large and very comfortably furnished, with a four-poster bed and open plan bathroom. The bath was large, deep – and sorely needed after braving the M4 during rush hour. The room was equipped with full mood lighting and two televisions – one in the seating area, and another retractable one at the foot of our bed.
The modern décor in our room varied from many of the other rooms in the house. We were shown round the following morning by the courteous concierge, and the majority of the rooms were classically furnished in the Edwardian country house style – many boasting four poster beds, original period fireplaces and panelling. A number of the most popular rooms have a river-facing balcony, a rather decent setting for a pre-prandial gin and tonic. Our guide indicated that these more traditional rooms are extremely popular, especially with wedding couples. On the flip side, however, the small numbers of contemporary rooms, designed by Philippe Starck, allow Danesfield to offer a slick and credible counterpoint to the traditional approach.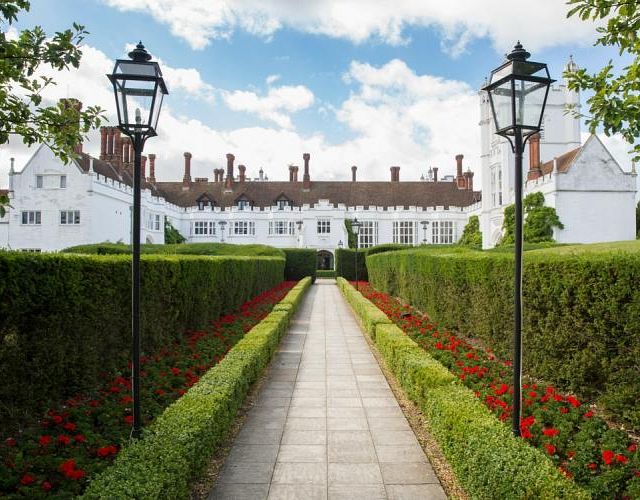 Heading to the small, slightly clubby and comfortably furnished bar, my guest and I began to peruse the menu over a couple of gin and tonics. The cocktail, gin and whisky selection was impressively expansive, ensuring there will be something to tempt even the most jaded of alcoholics. The hotel has, in honour of its 25th anniversary, created a couple of special drinks, most notably the Danesfield 25 – a mix of Tanqueray 10 gin, absinthe, egg white and lemon juice. The bar staff are engaging and enthusiastic – very ready to chat through their creations or talk about any particular spirit or liqueur that might catch your eye.
The house has two restaurant areas for dining, a formal Oak Room – panelled with starched tablecloths – and the slightly more informal orangery next to it. Service is slick, friendly and unobtrusive throughout. Taking our seats in the orangery, we finally settled on moules marinière and scallops with Thai fish cakes and sweet chilli oil for our starters. The portion of moules was generously sized and bursting with flavour, and my scallops were very fresh. The fish cakes well-constructed with a zingy and piquant oil. Inhaled in quick time, we were now certainly looking forward to the main courses.
These took the shape of Breast of Goosnargh duck with Griottine cherries, mash and kale and pan-fried Mackerel with saffron new potatoes, baby vegetables and herb beurre blanc. My guest's duck was a beautifully cooked piece of bird, very evenly done with minimal fat. The cherries were felt to offer an unusual and very pleasing sweet counterpoint to the meat. The mash was decidedly creamy and the kale (which can be bland) had retained its taste. My mackerel was again extremely well cooked, the lovely, nutty flesh falling away in chunks, barely needing a knife to cut it. The baby vegetables – including asparagus and courgette – were nicely judged, well-cooked whilst retaining a fresh crispness. The potatoes were definitely new, with a hint of saffron providing an interesting flavour.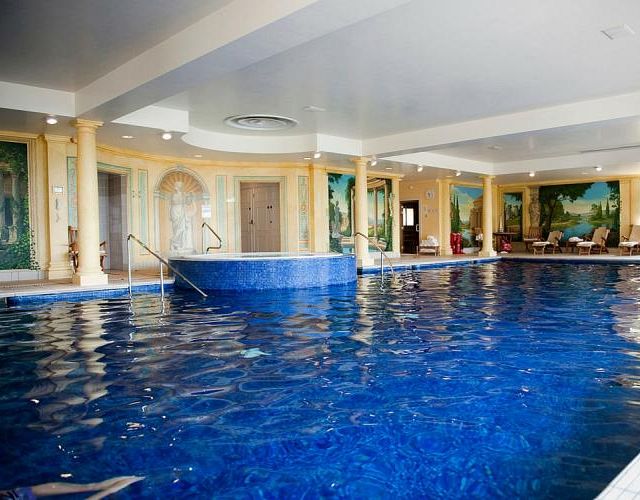 For dessert, my guest plumped for custard tart with butterscotch sauce, whilst I endeavoured to do justice to the Danesfield's regional cheese platter. The tart was rich, gooey and very tasty; my cheese platter tangy and crumbly with Colston Basset Stilton and Bosworth Ashe goat's cheese: a filling end to the meal. We decided to pair it with a spot of desert wine, my guest enjoying a glass of 2008 Muscat de Frontignan Languedoc-Roussillon whilst I accompanied my cheese with a Warre's 10 year old tawny.
The Danesfield's wine list is excellent – indeed AA commended – and one can see why. Very balanced between the Old and New worlds, there are both some usual finds from the usual suspects as well as some marvellous off piste selections. The adventurous will be able to find wines from Greece, the Lebanon, Turkey, Israel and Cyprus – a 2011 Santorini Assyrtiko and a Bekaa Valley 2011 Chateau Ksara being two that leapt off the page.
Given our different main courses, the two of us had opted for wine by the glass; I went for a glass of 2014 Viognier Vina Edmara from Chile. Crisp and refreshing with hints of gooseberry, this sat very well alongside my toothsome fish. My guest enjoyed a glass of 2010 Chianti Poggiogallo. Smooth and fruity it complimented the duck well.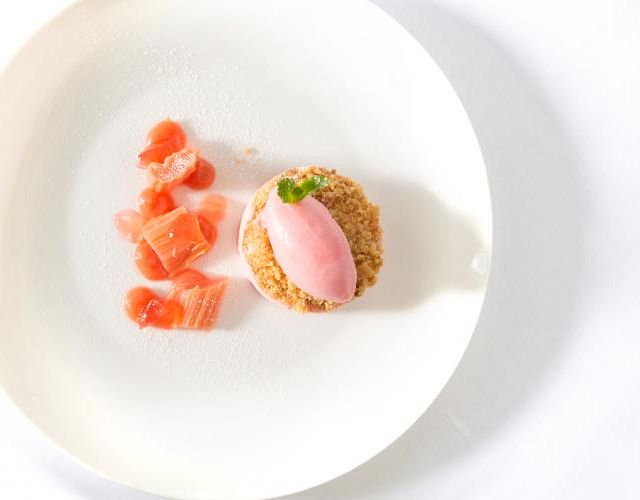 Following this elegant meal, we moved into the main hall, where we enjoyed coffee and a glass of Armagnac in front of the fire before retiring for a sound night's sleep on the comfortably firm bed in our room.
In the morning, we drank tea and played with the retractable TV before returning to the orangery for breakfast. In the daylight, the stunning view across the formal gardens and down to the Thames rolled out in front of us. The breakfast buffet was wide-ranging with healthy and continental options available. Our full English breakfasts were well cooked and just the right size to set you up without making you feel bloated at the start of the day. The service was slightly haphazard though; guests were waiting to be seated and several times staff walked past tables without seeing empty bowls and plates. It seemed slightly out of keeping with the otherwise immaculate performance by the staff during our stay. The coffee – a perennial hotel problem – was not the best quality.
After a period of digestion, we moved through to explore the spa complex at the Danesfield. This separate building is an oasis of calm with its own bar and bistro as well as a very well equipped gym, 20 metre indoor pool, Jacuzzi, steam and treatment rooms. The swimming pool looks out over an equally impressive view to the restaurant, and provides a blissful way to wile away the time, either by swimming 30 lengths or simply soaking in the Jacuzzi and snoozing on the recliners.
A comprehensive range of treatments are available for men and women using premium products by Darphin , La Vallée and The Refinery, among others. Guests at the hotel have free use of the facilities while those needing some relaxation can investigate the wide range of spa days and breaks the Danesfield has developed.
Chatting with the helpful and friendly staff before we check out, they explained that as the house is a member of the Small Luxury Hotels of the World group, the hotel thus sees a steady stream of overseas custom. Given its proximity to town, those seeking respite from the cares of the world, and a spot of all round decadence for a night could (M4 dependent!!) hunt this rather decent establishment down
Author: Rupert Watkins, managing editor of Riddle Magazine. Follow Riddle on Facebook, Twitter, and Instagram.