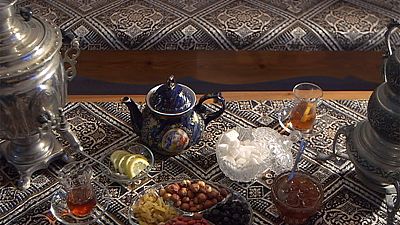 This week in Postcards from Azerbaijan, the country's deep attachment to tea, an almost sacred ritual that goes back centuries.
Some key facts about Azerbaijan:
Largest country in the South Caucasus
Capital is Baku; second city is Ganja
Located on Caspian Sea's western shore
Population is about 9.6 million people
Area is 86,600 square kilometres
Strong black tea is served for almost every occasion, and a lot of it comes from the region of Lankaran-Astara in the south of the country.
Euronews' Seamus Kearney reported: "It's the first picking of the season here on the local plantations, which lie between the Caspian Sea and the mountains, and where the subtropical climate and humidity are just right for growing tea."
The leaves grown here are for domestic consumption, but they are also exported.
There are traditional tea houses all over Azerbaijan, where locals have a saying that when you drink tea, you don't count the cups.
Azeris also pride themselves on the quality of their locally grown tea, saying it contains many benefits.
Ilqar Azimov from the Lankaran Tourism Information Centre told Postcards: "There are a lot of minerals and vitamins and Lankaran tea is very good for the health of everybody."
Uzbekistan and Azerbaijan top leaders among world's tea lovers https://t.co/ZGytGWAYgj

— Takeout Kit (@TakeoutKit) 28 May 2016