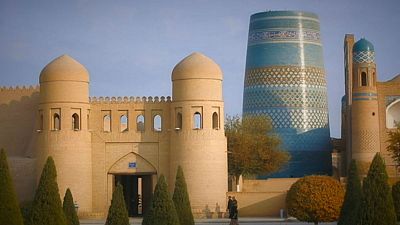 This week our Postcard comes to you from the west of Uzbekistan and the ancient city of Khiva.
Behind the fortress of the inner-town called Itchan-Kala, visitors are met with the beautiful site of the Kalta Minor, which means short minaret – but is also known as the Unfinished or Blue Minaret.
Key facts about Uzbekistan:
It's in Central Asia, with neighbours including Kazakhstan, Turkmenistan, Kyrgyzstan & Tajikistan
With a population of more than 30 million, the ex-Soviet republic became independent in 1991
The total land area is 425,400 km2, with plains covering about four fifths of the territory
The average winter temperature is -6 degrees celsius and in summer it rises above 32
Almost 80 percent of the population is Uzbek and the main religion is Muslim (88 percent)
Euronews' Seamus Kearney reported: "There are 18 minarets inside the fortress, including the tallest in Uzbekistan.
"But really it's the blue minaret, near the main entrance, that's become the iconic image of Khiva."
Sohiba Mamedova, a Khiva guide, told Postcards: "The height of this minaret is 29 metres, but it was actually not completed.
"In fact, the original plan was to build the minaret up to a height of between 70 and 80 metres."
It was supposed to be the tallest minaret in Central Asia.
Work began in the early 1850s but stopped when the ruler who commissioned it was killed in battle.
Khiva became a UNESCO World Heritage Site in 1990.