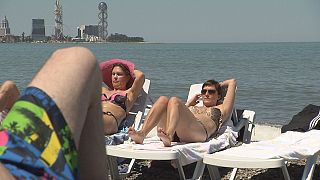 A jewel on the Black Sea, the Georgian resort of Batumi is also known as the party capital of the region.
The main city of Adjara, an autonomous republic in southwest Georgia, Batumi is the place young people come looking for warm sea, cool clubs and a never-ending holiday atmosphere.
"The sun is perfect, the sea is great, a lot of people around – this summer is fantastic, lots of concerts, so cool!", said one young man relaxing on the beach.
A young woman told our reporter, Denis Loctier: "I always come to Batumi – it's a great place, and I've got many friends here!
"The weather is very nice, I always feel great at the seaside – especially the Black sea, and especially Batumi!," said another young woman.
A stroll along the seafront boulevard reveals a fast-changing city with luxurious new hotels and restaurants, modern sculptures, and fountains everywhere.
"People come because there's a lot of love, more and more love here… The sea adds a blue colour to this city of white and gold. Batumi is waking up. It's a city rising from a dream," enthused Rezi Zoidze, a music events organiser.
Adjara's nature is unlike anywhere in Georgia. The sun-kissed seaside flanked by snow-capped peaks is a paradise for thousands of flora and fauna species. The Batumi Botanical Garden is a popular place to relax, breathe the fresh, balmy air and enjoy nature.
"We have plants from all over the world – some of them you can't find growing naturally anywhere else in the northern hemisphere. (pause). The weather here is really nice throughout the whole year. We're at the Black sea, so for half a year it's a summer season, and even in winter we have some exotic flowers blooming," said the garden's curator, Marina Tatarishvili, curator.
As the sun sets on the Black Sea Batumi's vibrant nightlife bursts through the remnants of the day, with bustling dance clubs, casinos and restaurants.
Georgian cuisine is all about taste. Its elaborate recipes combine fresh vegetables and fruits with walnuts and spices. Meat dishes, often grilled, are served with piquant sauces, salty cheeses and local wines.
"Good food is the most important thing in Georgia," says local chef Irod Mamuladze. "The first thing you get when visiting someone is an invitation to the table."
The best known local speciality is a peculiar kind of khachapuri, a cheese-filled pastry. Rich in taste, and very rich in calories!
"Khachapuri is a traditional dish around Georgia. Adjaran Khachapuri is particular – it has the boat shape, because we live on the seaside. It's also open, so the cheese cooks much better. And we add an egg," says Irod.
At night Batumi's boulevard throngs with couples and party-goers, drawn to the music and dancing on the beach, on the streets and in the restaurants.