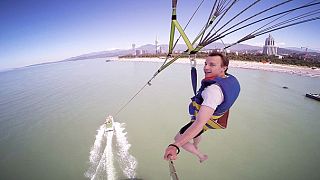 Batumi is Georgia's party capital, and the main reason people come here from across the region is its spirit of freedom and fun. Georgian laws are more open-minded when it comes to drinking and casinos than those in neighbouring Turkey, the departure point for many of Batumi's visitors. Others come from former Soviet states, attracted by affordable prices and the lack of a language barrier, or from far-away countries, sometimes as a part of a more general tour of Georgia.
As primarily a resort city, Batumi's main attraction is an impressively long pebble beach traced by a beautiful boulevard with palm trees, street vendors and diverse entertainment.
Beaches at the city centre have the advantage of proximity to the main hotels and restaurants; closer to the Turkish border, however, the sea water is more transparent, and the beach might be less crowded in the high tourist season that starts at the end of June and continues till September.
The resort has changed drastically in the last five years, with lots of new buildings, sculptures and parks defining the bright modern cityscape of Batumi. An iconic tower with a glass ball at the top, rising in the port area, is actually a monument to Georgia's ancient alphabet. A shard-like skyscraper with a golden sail at its peak was built to host a technological university.
If by some reason you're up for some American fast food in this land of delicious local cuisine, you can check out a mind-blowing outlet of a well-known chain that looks more like a flying saucer landed in the city centre than a burger joint.
That said, Batumi has its share of kitsch, with some new hotels and restaurants imitating the life-size Roman coliseum, or the White House turned literally upside down (with matching furniture and flower pots attached neatly to the ceiling; and in the toilets, as you would expect, a spare set of WCs hang down from right above your head).
The general atmosphere is welcoming and relaxed; it's that kind of sincere hospitality when you always feel an appreciated guest wherever you go. When our camera light broke, we wandered into a cellphone repair shop looking for a screwdriver, and the owner insisted on fixing the device for free as we were guests in his city. While we were waiting, his mom made us coffee. Everywhere, we were finding all doors open, and locals happy to show us around.
If you go to Batumi, try the local variety of khachapuri – a high-calorie but delicious melt of cheese, butter and egg baked in a boat-shaped bread. It's customary to eat it with hands by tearing off pieces of bread and using them to pick up the delicious stuffing. Starting from the end of June, there are plenty of nightclubs and casinos to choose from if that's the kind of recreation you're looking for, and for the nature lovers the vast Botanical garden with beautiful plants from all around the world is a must-see site on a hill just outside the city.
Denis Loctier, Batumi, Georgia