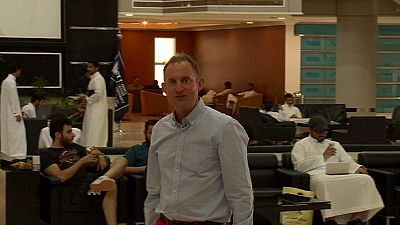 It's seven in the evening and the temperature is 35 degrees. Time for a game of football. What in this heat? The playing fields of Prince Sultan University in the heart of Riyadh. Sport is a key part of the curriculum for the students. But playing in a 35 degree heat? It's part of university life.
A 'guest' appearance of a few minutes was enough. Well you don't want your skills to be shown up by a bunch of enthusiastic students. More to the point I don't know how anyone can put up with such heat, professional or not. It was simply stifling.
It was strange to hear the shouts of the players here on this pitch in the capital ring out in English. But all teaching is carried out in English in the university which the rector calls a "melting pot". Not a pun on the heat but reference to the fact students and teachers from over 35 nationalities mix on the campus.
It was a first for me to have a kick about in such high temperatures but 'firsts' are what PSU – as the university is known is all about.
It broke with the educational norm when it opened as a private university which is not for profit while the women's college led the way in offering a course in law for the its students. Several of its graduates are now practicing in the country's courts.
The profit is ploughed back into the faculties and used for the benefit for the students. With links to several big national companies PSU boasts a success rate of around 75 percent rate in placing their students in work.
They are achieving on the football pitch as well with a well deserved victory against their lecturers which we watched from the comfort of an air conditioned classroom. If you can't stand the heat……!