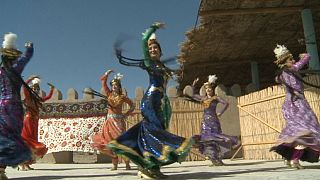 Behind the defensive wall of Khiva, you can easily lose all sense of reality, the magical past seems so close. At 2,500 years old Khiva is one of the oldest cities on the Great Silk Road. This area behind the fortress is called Ichan Khala – meaning "the inner town''. It was where rulers and the aristocracy lived and entertained guests from all over the world. The whole area is now on UNESCO's list of World Heritage.
The entire city is an outdoor museum. At the same time it is a living city. of 3,019 people. Local people believe that the well water brings luck and happiness. This belief dates back to the discovery of this oasis. According to legend the son of Noah once travelled across this desert and saw a huge fortress in his dream. He woke up and discovered a well with incredibly delicious water, which is why he decided to build a city in this spot.
The local wood carving also evokes the past. It can be seen quite literally on every corner. And these carvings tell stories. A heart on a door means it was once the entrance to a harem. Madamin Madaminov comes from a long line of wood carvers and compares wooden masterpieces to books. It's a prestigious skill in Khiva. Madamin works with his brother, and they are teaching the next generation too. Madamin compares this profession to art, and says that like music, it should be practiced from a very early age.
Cooking the traditional rice dish plov is another cherished art here. The main ingredients are rice, meat and vegetables. Plov was eaten in the era of the desert caravans, meaning travelers could stave off hunger for a long time. Every region in Uzbekistan has its own plov recipe.
In Uzbekistan, plov is served to celebrate births, weddings, and birthdays, as well as being an everyday staple. Locals can not imagine life without plov.
The Silk Road and the past still link the cities we visited in Uzbekistan. And people from all over the country are determined that this rich heritage will be preserved forever.