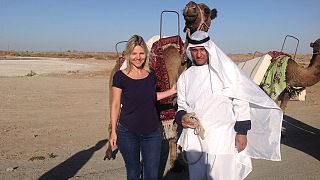 Looking at the Karakum Desert from my airplane window I could swear that I saw caravans. I woke up. In half an hour we entered Khiva, and I had to punch myself to make sure that I was not dreaming anymore. The huge city wall concealed the reality that looked like a movie set.
Actually, many filmmakers found inspiration in those streets. Cameras and photos work here from dust till down. Numerous tourists want to bring home proof of their journey to the past. Our crew was starring in the photos taken by one Japanese group. They were inspired by us filming the symbol of the city – the unfinished minaret Kalta Minor.
We were allowed to climb on top and to see the city from an unknown angle. And I did like any tourist would do – asked my cameraman to take a picture of me. The photo is great, just it is hard to understand why am I sitting in the stones and where am I. Well, that's how the structure looked like from inside, and it was supposed to become the top of the top. According to a legend, once upon a t ime a K han decided to build a minaret that would allow him to see Bukhara from its top, but the Khan passed away, and work stopped, but not its fame. The short unfinished minaret is now on the list of the most famous in the world.
Locals say that Khiva has many faces, and that one needs at least 1,001 nights and days to discover it. We spent there just three days, and I can assure you that my impression from the city was always changing. Clouds, wind, people on the streets – every single detail matters.
One of our crew's last adventures took place 40 kilometers away from Khiva. We went on the shore of a wonderful salt lake near the ancient castle Kaladjik to film the episode when a caravan appears in all three programmes of Uzbek Life.
First of all I would like to thank the actors from a local theatre who helped us to make our dream of filming a caravan come true. We chose this place not only because of its marvelous landscape. In ancient times caravans stopped in this fortress on their way to Khiva.
Nowadays tourists come here to taste plov and locals take a bath in the salt lake which they believe has a curing power. I made my final stand up there. Our guest star, the camel Misha, improvised a lot. He kept on eating my hair. I guess Misha thought that was funny. And it surely was. You can find some behind the scenes above; enjoy!