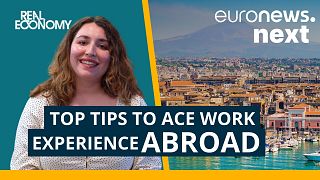 -
Copyright

Source: Euronews
Working abroad can be a great opportunity for young people to learn about having a job, discovering new cultures and meeting new people.
But in order to make the most of such experiences, it is essential to make sure certain guarantees are in place.
Manon Deshayes works as a Policy officer for the European Youth Forum, a non-profit organisation that serves as an advocacy group for young people across Europe.
"Internships should be this stepping stone to quality jobs," she told Euronews.
"But unfortunately, more and more, those unpaid traineeships kind of replace the first entry-level quality jobs that should be offered to young people," she said.
Here are three top tips for doing work experience abroad.
Check your contract and your salary
When starting an internship or work experience abroad it is important to check your work contract in detail to make sure your rights as a worker are properly explained. It is also very important to check that you will receive a fair salary for your work.
"There is this misconception that traineeships are going to be a six-month thing and it's over," she said. "But when we look at the reality, more and more young people very often need to work for at least two years without a salary and that is not something that we can afford."
Today, more and more young people are working in the gig economy and unpaid traineeships, she said, which means that young people are increasingly losing access to quality employment, particularly those from marginalised backgrounds.
If young people do not have these guarantees, it will "have a negative impact on their life going forward in terms of employability or even just their personal lives," she said.
Learn about your rights
Before going to a country for an internship or a temporary experience, it is also essential for young people to understand the situation there in terms of social protection and rights.
Without the guarantee of social protection and a decent salary, the work placement will not bring much value. "At the end of the day, it is not going to be a quality experience for you," she said.
"Whether it is internships, ALMA programmes of mobility, young people need to have a decent salary and need to have access to social protection."
Youth programmes such as ALMA (Aim Learn Master and Achieve) help disadvantaged young people who are not in employment, education or training (NEET) to find their way back to the job market, through work experience in another EU member state and coaching.
Get in touch with locals
Deshayes also recommends reaching out to organisations for young people. Local youth organisations will not only be a great help to learn about your rights in the country but also a great starting point to meet people.
"I would recommend that you reach out to youth organisations in the country you'll be going to so that you have a better understanding of the situation on the ground. And you can meet new people already and really integrate as much as you can," she said.
To learn more about ALMA programmes, click here.