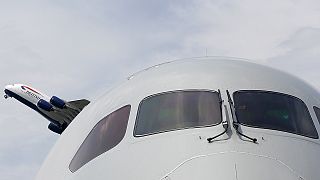 The 52nd International Paris Air Show (SIAE) is almost upon us. This year's event held from June 19 – 25 promises to be of unprecedented size and scope with 2,300 international exhibitors, 150,000 trade visitors, 30 national pavilions and about 300 official delegations. It would take years to see everything on offer so Euronews will explore the 130,000 square metres of exhibition space to bring you a some of the most groundbreaking and breathtaking innovations the aerospace industry has to offer. The anticipation for this year's SIAE is so great that for the first time, exhibition spaces sold out eight months before opening.
"We are happy and proud that our show is still very much seen as where it is all happening," announced Paris Air Show CEO, Emeric d'Arcimoles. "This is because over the years we have always strived to provide our exhibitors and visitors with the best possible business platform. It also reflects how our industry is in excellent health."
We'll be covering innovations from the farthest flung corners of the industry, from tactical unmanned aircraft systems to solar powered zephyr prototypes but here is a selection of the headline acts to watch out for at the Le Bourget:
Airbus and Boeing: the arch rivals go head to head
Each year, the question on countless lips is, "which of the powerhouses of the industry – Airbus or Boeing will get the most orders signed?" Airbus overwhelmed Boeing at the 2015 Paris Air Show with orders and commitments for 421 aircraft worth a whopping $57 billion, against Boeing's 331 aircraft worth $50.2 billion. Then at last year's Farnborough Air Show, Airbus were again victorious. Boeing had 279 orders and commitments valued at 31.25 billion euros to Boeing's 182 aircraft orders worth an estimated 23.93 billion euros. Not a bad week's work in either case, but given that Boeing has been lagging behind in recent years, they'll be keen to give Airbus a run for their money this time around.
The crux of the debate between the two aviation giants focuses on a potential space between the largest narrow-body jets and the smaller wide-body ones, the so-called "middle of the market" where Boeing is studying building a new plane.
Airbus versus Boeing: Iran deals the difference in plane battle https://t.co/qAlZWeJ2JT

— Reuters Business (@ReutersBiz) January 13, 2017
The Asian Ascent
Chinese aerospace industry influencers, as the new kids on the block, will be hoping to leave their mark on this year's SIAE. Their C919, a narrow-body twinjet airliner made by Comac had its maiden voyage only last month and will be on the market in 2020. Capable of carrying 156-168 passengers, the C919 is intended to take on the Boeing 737 MAX and Airbus A320neo. China's target markets are in developing markets like Indonesia and Nigeria but their aggressively competitive commercial models mean that their European and US counterparts could soon have a serious contender on their hands.
Orders for China's first homegrown large passenger jet reach 600 #C919https://t.co/lJppvQ7AtRpic.twitter.com/9RZiAAKImc

— China Xinhua News (@XHNews) June 13, 2017
Qatar Airways unveil new seating set-up
As the commercial aviation market continues to expand, companies are offering more and more imaginative options to blur the barriers between 1st class, business-class and economy. Despite the unrest at home following the Saudi-led blockade which has forced Qatar Airways to run expensive routes via Turkey and Iran, the company has high hopes for the 52nd SIAE. They will unveil a new patented seat design called 'Qsuite'. They believe it will "bring the First Class experience to the airline's Business Class cabin" and "redefine industry expectations". Qsuite features the aviation industry's first-ever double bed available in Business Class, with privacy panels that stow away, allowing passengers in adjoining seats to create their own private room. In addition, TV monitors on the centre four seats can move to allow colleagues, friends or families travelling together to transform their space into a private suite for four to work, dine or socialise together.

The first #QatarAirways aircraft featuring our new Qsuite is coming to Paris Air Show 2017. https://t.co/879wXHblqL#PAS17pic.twitter.com/KjTTm2sXSM

— Qatar Airways (@qatarairways) June 14, 2017
The global defence industry
With the continuing instability in the Middle East and President Trump's pumping up of the US defence budget (with an additional 48.22 billion euros), the defence industry looks poised to make considerable gains this year, though not necessarily along the established fault lines the industry has come to expect. Where India was once seen as too closely aligned with Russia, they are now reaping the rewards of renewed collaboration with US-aligned markets. Israel signed a record 1.8 billion euro deal with India and 50% of Israeli defence exports are now sent there. India is turning heads in the international community with its power as both a buyer and a manufacturer, so it is expected that its companies will benefit at Le Bourget.
Give us your thoughts
We'll be there for the duration of this mega-event reporting back on what's new in aeronautics and we would love to hear your thoughts, ideas, and comments in the live blog that runs throughout the Show.