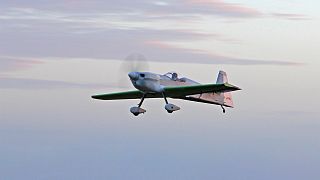 On the fifth day, as the Paris Air Show opens its doors to the public, we met Regis Alajouanine beside the runway just before he took off for a dizzying aerobatic spectacle that wowed the crowds. We set-up cameras in the cockpit and on the wings to bring you a taster of what it's like up there. Watch out for our 360-degree immersive video report from inside the cockpit.
Regis is part of an association called Amicale de Voltige Aérienne (Friends of Aerial Acrobatics). We asked him how he goes about preparing for the show. A few hours before takeoff, the pilots are given a programme of manoeuvres to follow. They have to memorise them whilst taking into account the weather conditions. Today, the wind has picked up and Regis will be pushed towards the crowds so to compensate, he must translate transverse wind-speed into minute movements of the controls. Nerves are, obviously, a given and Regis walked us through some of the most challenging manoeuvres. The one he said to to look out for is the "la ruade", created by French Pilot Claude Roux in 1986.
Having met Regis, when he took off, I looked on anxiously hoping he would have a good flight. It soon became clear that he was not going to disappoint. The AVA or in this case the "CAP 432 prototype" soared vertically to around 1000 metres, spun around countless times and descended rapidly releasing smoke trails as it went. It looked very much like Regis had stuck to the programme.
After the flight we caught up with him and the adrenaline was still clearly pumping. He confirmed that everything had gone well, the manoeuvres were followed more or less to the letter.
Regis and his team assembled the CAP 432 themselves. It is a transatlantic hybrid with American wings and a French body. They have a second plane on the runway that is also truly one of a kind. They modified the CAP 10, their first plane, to allow disabled pilot- Dorine Bourneton to perform aerial acrobatics at the show using only her arms.
Regis is about to take his retirement from his role as Head of Structure and Floaters at Total (and Hutchinson). This means more time to take to the skies. He said: "I certainly wont be an idle retiree."