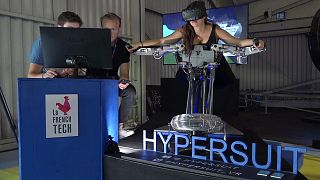 For day 6 of the Paris Air Show, we're back at the Paris Air Lab but this time we're going fully virtual.
As we made our way through the buzz, we stumbled upon the fresh-faced French founders of the start-up – HYPERSUIT. Grégoire Arcache and Tom Sicard explain that a year ago, all they had was an idea. Behind them stood their creation – the hypersuit.
It's essentially a platform on which you lie spread-eagled. On either side, there are handles attached to a pair of wings. The idea is that you simulate flying or swimming. For now the pair are targeting VR arcades but there is also talk of branching out into the field of pilot and astronaut training.
The Hypersuit's Creators Say It Can Train Military Pilots https://t.co/8pmJTTu1l8pic.twitter.com/GnoKsXya3i

— Lifeboat Foundation (@LifeboatHQ) June 8, 2017
The functionality is very simple, you lift your arms up to fly higher and you pull them down to go lower. If you want a boost in speed, you stretch your arms out like superman. As a VR novice I was quite taken-aback by how quickly my brain was fooled by the experience.
L'Hypersuit en démonstration au Paris Air Lab https://t.co/6WwtJIZaRJpic.twitter.com/5aUmFncjK5

— skydancers (@skydancersmovie) June 24, 2017
Within seconds I was utterly consumed by fear of falling or hitting a windmill and a simple fan blowing air onto my face topped-off the illusion. The game they are using to showcase the hypersuit is "simple" you fly around avoiding certain objects and trying to hit others.
It was made very clear to me that my score was nothing to write home about and I was gently reminded on several occasions to 'take it easy.' The excitement was a little too much and I think I nearly ripped the arms off, that must be why they call it the hypersuit. The experience was fun and certainly immersive (even if the last game you played was on a super nintendo.)
Gregoire and Tom expect the Hypersuit to be on the market by 2018.
---
---