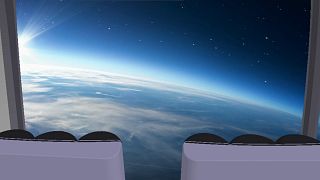 "Four years ago I just had a dream of travelling in the sky like you sail on the sea," explained Vincent Farret D'Asties, founder of Zephyr Endless Flight.
Vincent had been an air traffic controller until that dream led him to drop everything and put all his energy into making his ambition a reality. Today, Vincent's idea has persuaded a small group of engineers and aviation professionals, including Pilot -Thomas Viguier, to leave their jobs behind and do likewise.
It is certainly an ambitious concept but if they succeed, it will be revolutionary. Hot air balloons require vast amounts fossil fuels, and conventional helium zephyrs can only control their altitude by releasing some of the gas to descend or throwing away sand to go up (this is known as "ballasting" which actually comes from sailing).
What Vincent, Thomas and the team have done is to patent a device that allows their zephyr to go up and down using only solar power. But how can you control the direction of the wind? Vincent tells us that: "Depending on the altitude that you are at, the direction of the wind is not the same. So, if you go, for example, you are 2000 metres high, you go southward. If you climb at 4000 metres you go westward." This means that by keeping a keen eye on meteorological changes, and with a (solar-powered) device that can control altitude… it is technically possible to fly anywhere without ever coming down (except for nourishment).
They are to set off on their 3-day maiden voyage this summer before attempting a world record next year. At the moment, Bertrand Piccard and Brian Jones hold the record for the longest continuous flight at 19 days, 21 hours and 47 minutes. Vincent and Thomas hope to smash that by 11 days.
While they wait for the real deal, Vincent and Thomas pass the time by having a little swing from a hot air balloon at 2000m above the ground. "This time it's still fossil energy we're using but, well, next time we hope not to heat up the climate and that it will be 100% green and electric," Vincent says, before jumping out of the balloon to swing in the abyss.
Look out for Zephyr Endless Flight. They have big plans for the future. After their world record attempt, they plan to invent a gondola which uses the same technology to carry passengers into the stratosphere, 25,000 metres high. Up there you can see the curve of our planet and take in a 1000-km-wide panoramic view.
---
---