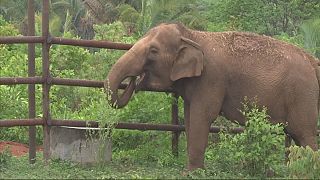 The first elephant sanctuary in Latin America has welcomed its inaugural guests.
Maia and Guida, two Asian elephants who spent their lives performing in chains in a circus, have been released into their new 2,800 acres-home in the western Brazilian state of Mato Grosso.
The two, along with possibly dozens more elephants in the future, will get veterinary care as they live out their lives in forested areas, pasture lands with hills, large boulders, streams and springs.
Ex-circus #elephants are enjoying their retirement thanks to first #elephant sanctuary in Brazil. https://t.co/wEzTr9YEZgpic.twitter.com/hEh786PGEb

— The

KOTA

Foundation (@kotafoundation) 23 October 2016
Scott Blais, an American who helped this sanctuary get off the ground, drew on his experience co-founding a similar sanctuary in Tennessee in 1995.
Latin America's most populous nation, with a land mass larger than the continental United States, was chosen for many reasons: the variety of real estate available, a team of like-minded people already in the country and an urgent need to take in elephants from Brazil, Argentina, Chile and Venezuela.
Meet Guida and Maia. They are the first residents of Latin America's first elephant sanctuary, which just opened in Brazil! #MyFanHeroespic.twitter.com/ljePBf1Ldv

— FanHero (@FanHeroApp) 16 October 2016
Sanctuary officials estimate there are more than 50 elephants in South America that are similar to Maia and Guida: in the last phase of their lives and in need of a home.
Not long after both had been released, Guida approached Maia and the two embraced with their trunks.
Blais, CEO of U.S.-based Global Sanctuary for Elephants, and local partners purchased land in the state's southern part for roughly 1 million US dollars to be paid over five years.
Figuring out what to do with aging elephants has become increasingly difficult as their natural habitats come under attack on the two continents they come from.
In Asia, the biggest threat is dwindling land. The animals are often illegally hunted for their ivory tusks in Africa, where a large-scale survey dubbed the Great Elephant Census found an alarming 30 percent drop in elephant populations between 2007 and 2014.
Elephant experts say the animals would not survive if they were simply returned to the wild after living in captivity. The gap is slowly being filled by a handful of sanctuaries in countries like the United States, Thailand and Malaysia.
Public visits will be forbidden in Brazil's Elephant Sanctuary but cameras will allow people, from children to scientists, to observe the animals while letting them live in peace.