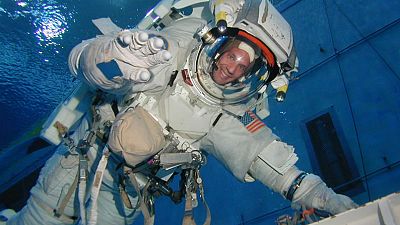 French ESA astronaut Thomas Pesquet is going for a swim, but this is one dip with a difference. Pesquet is taking his last training session in NASA's Neutral Buoyancy Laboratory at Johnson Space Center in Houston, Texas.
The pool is home to giant replicas of the International Space Station and provides perhaps the best simulation of what working on the ISS might feel like. The water replicates the zero gravity conditions Pesquet will encounter when working in space.
#space: Next #astronaut for esa</a>: <a href="https://twitter.com/Thom_astro">Thom_astro. #blogSpace_Station</a> <a href="https://twitter.com/hashtag/science?src=hash">#science</a> <a href="https://twitter.com/hashtag/human?src=hash">#human</a> <a href="https://twitter.com/hashtag/exploration?src=hash">#exploration</a> <a href="https://t.co/CBPZXyMzIu">https://t.co/CBPZXyMzIu</a> <a href="https://t.co/et9EQGai5r">pic.twitter.com/et9EQGai5r</a></p>&mdash; Alexander Biebricher (alexbiebricher) September 27, 2016
"It's physically difficult, it's one of the most challenging parts of the training, it's also one of the most realistic. When you're in the pool for six hours, you get tired, but at some point you really think you're on the ISS. You look around you and there's a structure everywhere, sometimes you even get disorientated because that's what happens in space, it's like a 3D labyrinth of technology, a maze of technology."
After a full seven years of training for he is preparing for a hectic schedule in orbit.
#paolo nespoli: «Il razzo esploso è un brutto incidente per #spacex, ma questa è la… https://t.co/ZFga8fwBUjpic.twitter.com/XKqgT586il

— ilmessaggero (@ilmessaggeroit) September 2, 2016
He is training with veteran Italian astronaut Paolo Nespoli due to travel to the ISS early next year.His journey into orbit in early 2017 will be his third trip to the stars.
Paolo Nespoli, ESA Astronaut: "I'm reaching the end of my career and I'm able to do a last flight and really, again put to work all the knowledge and know-how that I've acquired during this year."
The upcoming missions will be ESA's ninth and tenth long-duration stays on board the ISS.
An often omitted benefit of the space station is the fact it brings people together from different political, social and cultural backgrounds, to create a team working for the benefit of human kind.