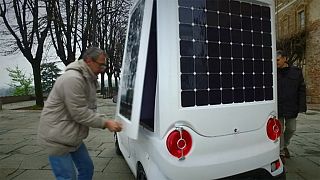 Funny car, isn´t it?
Its solar cells not only feed its two electric motors…
… but also its kitchen.
This prototype has been designed by Italian engineers.
They say they want to change the way we move around.
Their cars are modular.
They can be a food truck, a pick up, a van. Or a taxi.
The assembly line has been designed to be low cost and portable.
Researchers hope to launch production by late 2017…
… with prices not exceeding 10.000 euros.
So in case you are interested…
… get ready to enjoy your all electric meal!