Andre Ventura: Facebook suspends Portuguese far-right leader over hate speech
Comments
By The Cube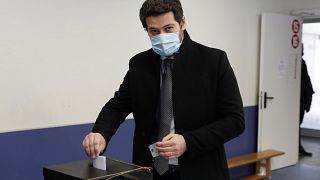 -
Copyright

AP Photo/Armando Franca
Facebook has temporarily suspended the account of Portugal's far-right Chega leader for publishing hate speech.
The social network said two posts on the account of André Ventura violated the company's policy.
In one of the posts, Ventura had criticised Portugal's Minister of Internal Administration, Eduardo Cabrita, for failing to punish someone who had been convicted of posting comments against the Chega leader on Facebook.
On his own Facebook page, Ventura stated that he believed "should be beheaded".
Twitter had already suspended Ventura for 12 hours in May for publishing the same message, breaking their rules "against abuse and harassment"
In the second Facebook post from March, the Chega leader labeled other political parties "wusses" for not attending the funeral of the distinguished army officer Marcelino da Mata.
Facebook suspended Ventura for 24 hours on Sunday after the two posts were reported. Speaking to Correio da Manhã, Ventura said the move by Facebook was censorship.
"Social networks are increasingly the voice and tethers of political correctness," he told the newspaper.
"In Portugal, it seems that only Chega has this problem and this persecution. Here we will be to resist."