COVID-19 pandemic sparks rise in elder abuse across Europe
Comments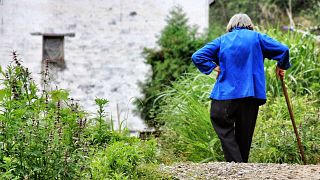 -
From increased loneliness to anxiety, the global pandemic is taking its toll, especially on older generations. NGOS are concerned, especially since elder abuse has spiked in the last year.
According to Age Platform Europe, an NGO working to change perceptions about older people, 2,500 older people die each year due to maltreatment in Europe and only 1 in 24 cases are reported.
Borja Arrue Astrain is responsible for AGE's policy work on long-term care and elder abuse. He tells Euronews that victims feel too ashamed to report the abuse.
"We know that older people may have found themselves living at home, isolated or with only informal care being delivered to them, with fewer professionals helping them in their every day lives stepping in and supporting them in their everyday life -- which means the closed doors behind where elder abuse takes place have been closed and sealed, which means that in that secrecy, behind those close doors, situations of abuse may have increased," he says.
I travel to the Belgian countryside to speak to one lady -- under the condition of anonymity -- who has been abused for most of her adult life. Born in the 1930s, she decided to open up in order to encourage others to speak out and seek support when in need.
"There are a lot of people like me in the same situation, who are totally humiliated. Older people and younger. It is terrible to live like this', she says.
She says she is grateful to the support network Respect Seniors who have always offered an ear in her times of need.
"Physically I am ok. I am not bad at all. But it is the suffering inside that hurts my heart", she says. "This started 50 years ago, when the violence began. I married a violent man. He seemed like someone nice. But since then, I was mistreated and beaten up, the children too. And since then, there has been a lot of unhappiness and you keep that in your soul, in your heart."