Belgium's slow rollout 'absurd' with so many vaccines made in the country
Comments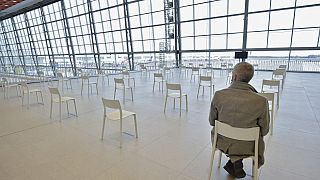 -
Copyright

JOHN THYS/AFP
Belgium is home to some of the world's biggest vaccine manufacturers, but that hasn't prevented the country's jab rollout going at a snail's pace.
As of February 25, 4.5% of the country's adult population had been given the first jab, according to the European Centre for Disease Prevention and Control, putting the country of 11 million below the European average.
"It is absurd and a bit surreal that vaccines produced here in Belgium end up more easily in the UK or in Israel or in other parts of the world than in Belgium itself where people have to wait a long time to vaccinated like in other EU countries," Belgian political scientist Dave Sinardet told Euronews.
He believes the main problem is the lack of supply of vaccines, but also the various technical and human errors witnessed in the past few weeks. 
For example, when 11,000 care workers were invited for inoculation in Brussels, only 3,000 replied to make an appointment. It is thought some of the invitations, sent out by e-mail and SMS, went into people's spam folder. Others may have not arrived at all. Authorities say they are now sending a letter instead. 
"In Belgium, an extra difficulty is that the purchase of the vaccines is on the federal level and administration is on a regional level. It is a typical Belgian situation. All those levels have to work together and that is not always very easy," Flemish science correspondent Koen Wouters told Euronews. 
He says the race is on in Belgium between regions and provinces so that politicians can show they are ahead of the rest. 
For the time being, the rollout is fastest in the Flanders region. Wouters believes this is down to less vaccine scepticism. 
"Vaccination scepticism is a larger problem in Brussels and Wallonia because of the French influence," he added. "There is more vaccination scepticism in France and Brussels and Wallonia are more under the French influence."