Coronavirus: UK daily death toll nears 1,000 as more areas of England moved to tightest restrictions
Comments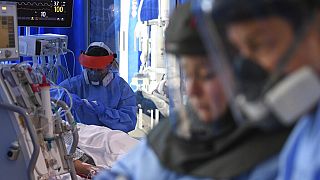 -
The UK's daily COVID-19 death toll hit 981 on Wednesday, as the country continued to grapple with a new variant of the virus.
This is the country's highest number of recorded deaths within 28 days of a positive COVID-19 test since April.
The total number of people who have lost their lives to the disease in the UK now stands at 72,548.
It comes after several more areas of England will be moved into the country's highest level of coronavirus measures from midnight on Wednesday, health minister Matt Hancock has announced.
British Prime Minister Boris Johnson urged people to "redouble our efforts", follow the rules where they live and "see in the New Year safely at home". He also hailed the approval by medical authorities of the vaccine developed by AstraZeneca and Oxford University. 
Doctors in Britain say they are currently facing enormous pressure from the new coronavirus variant as it threatens a worse situation than at the peak last April.
There are currently more people in hospital with COVID-19 than in spring - and infections are still rising.
As of Wednesday, there were 23,771 people being treated for the disease in hospitals in the UK, compared with 18,974 in mid-April.
Monday also saw a record-breaking 41,385 cases in a single day, only to be shattered on Tuesday when 53,135 new cases were reported. By Wednesday, which saw a total of 50,023 cases reported, the south-eastern county of Essex had declared a "major incident" due to healthcare services struggling with demand.
More Tier 4 areas announced
The government dashed many hopes for a relatively normal Christmas in the week prior to the holiday, introducing a brand new tier - Tier 4 - with the strictest restrictions for London and parts of the South East of England.
Now, areas in the Midlands, North East, parts of the North West and parts of the South West will join the capital in Tier 4, meaning three-quarters of the country will see the tightest restrictions imposed.
Almost all other areas of England have been moved up to the second-highest band of restrictions - Tier 3.
Johnson said in a press conference on Wednesday from Downing Street that "the sheer pace of the spread of this new variant requires us now to take even tougher actions".
Jonathan Van-Tam, Deputy Chief Medical Officer for England, described the situation in many parts of England as "precarious".
"The NHS has not yet seen the impact of the infections that will have occurred during mixing on Christmas day," he added, describing that statement as "sobering".
According to Hancock, the majority of new cases contributing to the latest wave are thought to be that of the new, highly-transmissible variant.
But the health minister has, however, confirmed to one radio station that no tiers would be introduced above Tier 4.
"I know that people understand this, I know that these decisions aren't easy and they have a big disruptive impact on peoples lives, but I know people understand why we have to do it, especially with the vaccine around the corner," he said.
He told local media: "The 'suppress the virus' bit has got a whole lot harder since the new variant really got going over December.
"Now the majority of the new cases in the UK are the new variant. It is much, much easier to transmit from one person to another."
Reopening of secondary schools delayed
The return of secondary school pupils (aged 11-16) to classrooms will be delayed in an attempt to dampen infection rates, education secretary Gavin Williamson announced on Wednesday.
Older secondary and college pupils (aged 16-18 and above) will be delayed until 11 January, with everyone else back a week later. All secondary school children will be back in education establishments by January 18.
He added that primary schools in a "small number of areas" in England where infection rates are currently highest will not reopen for in-person teaching to all pupils on the planned January 4, although vulnerable children and the children of critical workers will be accepted.
Hospitals under strain
On Tuesday evening, a tweet from an emergency doctor in Birmingham went viral after showing the extent of the second wave on hospital care.
Punith Kempegowda said he was leaving work after "another long day" in the accident and emergency department at Queen Elizabeth Hospital Birmingham, when he snapped a picture of an ambulance queue outside.
"Almost all these ambulances are waiting with patients inside them for more than 3 hours," he wrote, adding: "Because there's no place in hospital to bring them in."
Meanwhile, London-based anaesthetist Tom Dolphin said he was "deeply worried" about the month ahead.
"Hospital after hospital is activating surge plans and redeploying staff or declaring major incidents," he wrote on Twitter. "We haven't even got to the part where Christmas gathering-related infections show up at the hospital yet.
"This feels worse than March, perhaps because we all saw it coming. I'm deeply worried about Jan. It'll be hard to sustain much elective work (it would be hard in a normal winter, let alone this year).
"The problem is staffing. Everyone's exhausted and demoralised. And yet the staff plough on because that's what they do: cope. Or so we hope."
Earlier this month, the new strain of the virus forced the governments of all four nations of the UK to U-turn on plans to relax rules over Christmas. Many countries across Europe have also closed their borders to anyone travelling from Britain, fearing the variant could spread further.
Hopes, now, are pinned on the roll-out of vaccinations, with the UK starting this drive at the beginning of December by approving the Pfizer/BioNTech vaccine, and on Wednesday approved the AstraZeneca/Oxford jab.
The approval of the second vaccine will "allow us to vaccinate more people and also to vaccinate them more quickly", the Prime Minister said Wednesday.
Scientific advice that "the first dose can protect people from the worst effects of this virus", Johnson went on, means that "from now on we will give a first dose to as many vulnerable people as possible with the second dose to follow 12 weeks later."
Professor Van-Tam stressed however that it is not yet known if the vaccines will reduce transmission. He said that vaccinated people will be protected from serious disease but that it's unclear if they will continue to "pose a hazard to others". More clarity on the issue will be known in two to three months time, he added. 
Both Pfizer and AstraZeneca are now carrying experiments to determine whether their vaccines are effective against the new strains, the results of which should be released in "potentially a couple of weeks", Van-Tam said.
The EU also began its vaccination roll-out over the weekend with countries now administering the Pfizer/BioNTech solution to their citizens. The European Medicines Agency (EMA) is expected to approve the Moderna vaccine — which has already been given the all-clear by US and Canadian authorities — on January 6.