EU summit in Brussels: Five key things to look out for
Comments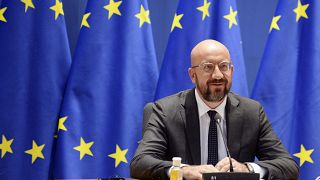 Copyright

Johanna Geron/AP

-
EU leaders meet in Brussels on Thursday for the first physical summit since October.
They are set to discuss further coordination on COVID-19, climate change, as well as security and external relations.
There are no plans to discuss Brexit in any detail, but EU chief Ursula von der Leyen has been debriefing heads of state and government about her discussion with Boris Johnson on Wednesday night.
Also on the agenda is a decision on when to start the vaccination campaign at European level.
Here are five things to look out for as the summit gets underway.
EU budget
The main topic to be discussed on Thursday is the EU budget — a draft agreement is on the table and it seems Poland and Hungary could be willing to lift their veto.
"I am confident that we can find an agreement on a common package to allow for the swift implementation of both the multi-annual financial framework [the seven-year budget] and the [coronavirus] recovery fund," said EU Council president Charles Michel.
COVID-19
The European Council is set to discuss the overall management of the COVID-19 response across the continent, including work on vaccines and testing and the gradual lifting of restrictions.
Member states are understood to want better coordination for lifting movement restrictions across the continent to help tourism recover.
Leaders could reach an agreement at the summit on starting a coordinated vaccination programme in the coming weeks.
They will also push for a common framework for tests and they want to agree on a strategy for vaccination access in poorer countries - mainly in Africa.
Climate change
Five years on from the Paris Agreement, European leaders will decide whether to introduce a new carbon emissions reduction target of at least 55% by 2030.
"Work on the best way to get to this ambitious target is well underway," said Michel. "This would be a major achievement and would underpin our claim to play a leading role in fighting climate change."
It's hoped that the EU will submit its updated, nationally-determined contribution to the United Nations Framework Convention on Climate Change (UNFCCC) before the end of this year.
However, a lengthy debate is expected as some member states are doubtful about the financial and technical support needed to achieve this goal.
Following Joe Biden's win, the US will return to the Paris Agreement. But the EU needs to get others on board in order to avoid jeopardising its geopolitical position.
Security
Following a number of recent terror attacks on the continent, the European Council will be focussing heavily upon terrorism and violent extremism, including online.
"The terrorist attacks of the past few weeks have only strengthened our resolve to work together against terrorism, radicalisation and violent extremism," said Michel. "We will focus in particular on operational measures that further reinforce our cooperation."
EU foreign affairs ministers will deliver a joint statement about the November attacks in Europe.
External relations
The Council is set to discuss the future of EU-US relations going forward after Joe Biden's win in the November election.
Also on the agenda is the situation in the Eastern Mediterranean and the EU's rocky relationship with Turkey.
An intense and long debate is expected because Michel's text is not as ambitious as Greece and Cyprus desire in terms of sanctions.
The Council may also address other specific foreign policy issues in light of recent events.